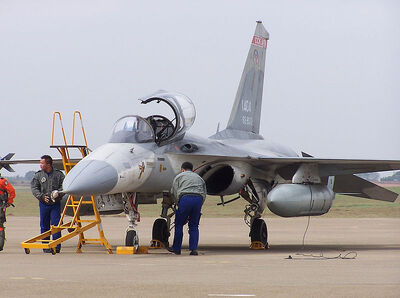 The
AIDC F-CK-1 Ching-Kuo
is a Multirole fighter aircraft of the Republic of China (Taiwan).
The Ching-Kuo has been developed to replace the aging F-5 Tiger and F-104 Starfighter aircraft. In the beginning it was planned to purchase the F-20 Tigershark, but this was refused by the US Air Force, because of pressure from the People's Republic of China (PRC).

The Taiwanese government decided to develop its own fighter aircraft. The AIDC (Aerospace Industrial Development Corporation) received the contract to develop this aircraft. But because the pressure did not forbid technology transfer from the USA to Taiwan and that's the reason why the F-CK-1 has many similarities with the
F-16 Fighting Falcon
and the F/A-18 Hornet.
Development was supported by General Dynamics, Garret, and Westinghouse. General Dynamics developed the airframe, Garret the engine, and Westinghouse the radar of the fighter. The Radar is an AN/APG-67, with similar range and capabilities as the AN/APG-66 of the F-16A Fighting Falcon. The first flight took place on 25th May 1989.
The aircraft has a rate of climb of 254 m/s, which is superior to all other fighters in its cost range.
Originally, it was planned to build about 260 AIDC F-CK-1 fighters, but only 131 have been built. To counter this fighter, Taiwan bought F-16s from the USA and Mirage 2000-5s from France, causing the People's Republic of China to feel threatened.
Community content is available under
CC-BY-SA
unless otherwise noted.