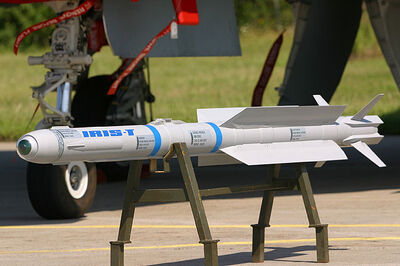 The AIM-2000 IRIS-T (Infra Red Imaging System Tail/Thrust Vector-Controlled, the earlier designation was InfraRed Improved Sidewinder/Thrust Vector-Controlled) is an infrared guided air-to-air missile, designed for close range combat.
Development
[
]
The IRIS-T was developed under a joint-venture by Germany and six other countries, the leading company was the German Diehl BGT Defence. The missile with the aim of creating a more capable short range air-to-air missile than the AIM-9 Sidewinder was. The IRIS-T development program was announced in the year 1995 and the missile is in use since December 2005.
The IRIS-T is considered among the most advanced short range air-to-air missiles and allows, if used by the Eurofighter Typhoon, to take out targets, 360 degrees around it, without manouevring towards the enemy.