Jurassic World: Dominion Dominates Fandom Wikis - The Loop
Play Sound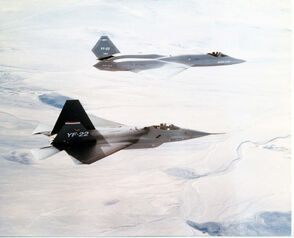 The Advanced Tactical Fighter program was started in 1986 by the United States Airforce to counter worldwide emerging threats like Sukhoi Su-27 Soviet era aircraft. Northtrop and Lockheed Martin were announced to develop two prototypes, the YF-22 by Lockheed and the YF-23 by Northtrop. In August 1991 the YF-22 was selected as the winner.
History
[
]
Criteria and Background
[
]
In 1981 the USAF began searching for new technologies for a next generation air-superiority fighter intended to replace the F-15 Eagle. The criteria for the competition were Stealth, Supercruise, Extreme Agility and STOL capability. The Advanced Tactical Fighter should include emerging technologies like more advanced propulsion systems for the engines, advanced fly-by-wire systems and VLO ( Very Low Observability ) capability. The Prototypes were primarly designed to have a maximum takeoff weight of 23000 kg with a combat radius of 1300 km and supercruise of Mach 1.4-1.5 or higher.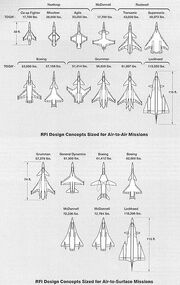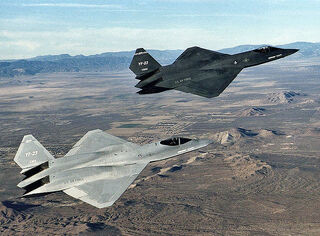 Winner
[
]
In 1991 the YF-22 was announced as the winner of the Advanced Tactical Fighter program and Pratt & Whitney as the engine competition. The YF-22 was chosen due to it´s better agility and a lower risk, while the YF-23 was stealthier and most of the sources claim that it was somewhat faster and the avionic and the stealth capabilities of the F-22 being now in service are superior to the prototypes of the 1990´s. Another reason is that the avionics of the YF-22 were more advanced and the weapon bays of the YF-22 were larger than the YF-23´s, but not only that, the YF-23 had technical problems with the internal weapon storage.
Gallery
[
]