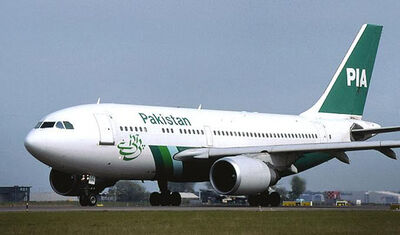 The Airbus A310 is a medium to long-range widebody airliner. Launched in 1978, it was the second aircraft created by the Airbus consortium of European aerospace companies, which is now fully owned by EADS. The A310 is a shortened derivative of the Airbus A300, the first twin-engined widebody airliner. The A310 (along with the A300) officially ceased production in July 2007 although the last delivery was in June 1998.
History
[
]
The A310's range exceeds that of all the A300 models, except for the A300-600, which surpasses the A310-200. This feature has led to the aircraft being used extensively on transatlantic routes. The A300 and A310 introduced the concept of commonality: A300-600 and A310 pilots can qualify for the other aircraft with one day of training.
Like its sister aircraft, the A300, the A310 has reached the end of its market life as a passenger and cargo aircraft. There have been no new A310 passenger orders since the late 1990s, and only a few freighter orders remain. The A310 (along with the A300) ceased production in July 2007, though five orders from Iraqi Airways remained on the books until July 2008. The remaining freighter sales are to be fulfilled by the new Airbus A330-200F derivative.[1]
The aircraft was formally launched in July 1978 for Lufthansa and Swissair. A further development of the A300, the aircraft was initially designated the A300 B10. Essentially a "baby" A300, the main differences in the two aircraft are
Shortened fuselage - same cross section, providing capacity of about 200.
Redesigned wing - designed by British Aerospace who rejoined Airbus consortium
Smaller vertical fin
The A310 was marketed as an introduction to widebody operations for developing airlines. The A310 was replaced in Airbus' lineup by the highly successful A330-200, which shares its fuselage cross-section. Between 1983 and the very last aircraft produced 1998, 255 A310s were delivered by Airbus.
The A300 and A310 established Airbus as a competitor to Boeing and allowed it to go ahead with the more ambitious A320 and A330/A340 families.
Variants
[
]
A310-200
[
]
The first A310, the 162nd Airbus off the production line, made its maiden flight in April 1982 powered by Pratt & Whitney JT9D engines. The -200 entered service with Swissair and Lufthansa a year later. Also the late series -200 also featured winglets just like the -300.
A310-200C A convertible version, the seats can be removed and cargo placed on the main deck.
A310-300
[
]
First flown in July 1985, the -300 has an increased MTOW and an increase in range, provided by additional centre and horizontal stabilizer (trim-tank) fuel tanks. This model also introduced wingtip fences to improve aerodynamic efficiency, a feature that has since been retrofitted to some -200s. The aircraft entered service in 1986, again with Swissair. No production freighters of the A310 were produced. Operators such as FedEx instead adapt ex-airline A310s into freighters. Most have been the -300 version.
A convertible passenger/cargo version, the seats can be removed and cargo placed on the main deck.
An all-cargo version.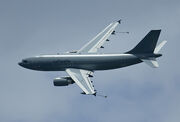 The A310 has been operated by many of the world's air forces as a pure transport, however some are now being converted to the "Multi Role Tanker Transport" configuration by EADS, providing an aerial refueling capability. Six have been ordered; four by the German Luftwaffe and two by the Canadian Forces. Deliveries began in 2004. Three are being converted at EADS' Elbe Flugzeugwerke (EFW) in Dresden, Germany; the other three at Lufthansa Technik in Hamburg, Germany. The Chilean Air Force has recently purchased two second-hand A310s to replace its ageing 707-320 'Aguila' tanker and transports. The first was received in October 2007.
Operators
[
]
Military operators
[
]
The A310 has been used by the armed forces of the following countries:
Belgian Air Component
Canadian Forces Air Command - designated CC-150 Polaris
Chilean Air Force
French Air Force
German Air Force
Spanish Air Force
Royal Thai Air Force
Pakistan Air Force
Accident and incidents
[
]
Hull-loss Accidents: 7 with a total of 548 fatalities
Hijackings: 10 with a total of 5 fatalities
S7 Airlines Flight 778, an Airbus A310-324 jet from Moscow carrying 196 passengers and eight crew, overshot the runway at Irkutsk in Siberia, plowed through a concrete barrier and caught fire as it crashed into buildings. Reports said that 70 of the 204 on board survived, with 12 still missing.[2] Since the accident, casualty figures have fluctuated, in part due to three people boarding the aircraft that were not on the passenger manifest, and some survivors having walked home and assumed to be trapped in the wreckage.[3]
Aeroflot Flight 593, an A310-300 carrying 63 passengers and 12 crew, crashed in Siberia after the pilot let his son sit at the controls and the autopilot silently disconnected.
Tarom Flight 371 crashed in Baloteşti next to Otopeni International Airport near Bucharest on 31 March 1995 after a jamming of the throttle on the starboard engine followed by a lack of reaction by pilots.
Kenya Airways Flight 431 crashed in the Atlantic Ocean shortly after takeoff from Abidjan on 31 January 2000.
Hapag-Lloyd Flight 3378 - July 12, 2000
Biman Bangladesh Airlines Flight BG006, an A310-325 carrying 236 passengers and crew, suffered a collapsed nose gear while accelerating down the runway.[4] Fourteen people suffered minor injuries in the accident at Dubai International Airport on 12 March 2007.[5] The aircraft came to rest at the end of the runway and was evacuated, but blocked the only active runway and forced the airport to close for nearly eight hours. The aircraft was written off. [6]
Sudan Airways Flight 109, an A310-300 from Amman, Jordan carrying 203 passengers and 11 crew, veered off the runway after landing at Khartoum International Airport during bad weather on June 10th 2008. Soon after a fire started in the aircraft's right wing area. As of June 12 reports confirm 30 people were killed with another 6 still missing. [7]
Specifications
[
]
  [8]
A310-200
A310-200F
A310-300
A310-300F
Crew
2
Length
46.66 m (153 ft 1 in)
Height
15.8 m (51 ft 10 in)
Wingspan
43.9 m (144 ft)
Wing sweep
28 °
Cross section
5.64 m (17 ft 4 in)
Passengers (2cl)
240
t cargo
240
tcargo
MTOW
141,974 kg (312,342 lb)
164,000 kg (361,600 lb)*
Empty weight
80,142 kg
(176,312 lb)
72,400 kg
83,100 kg
(183,300 lb)
73,900 kg
Max fuel
55,200 l (14,603 Airbus A400M)
75,470 l (19,940 US g)
M)
0.80 (850 km/h.)
Max speed (M)
0.84 (901 km/h.)
Ceiling
12,000 m (40,000 ft)
Thrust (×2) (lb)
50,000-53,200
56,000-59,000
Engines
Pratt & Whitney JT9D|PWJT9D-7R4 or General Electric CF6|CF6-80C2A2
   Pratt & Whitney PW4000|PW4156A or CF6-80C2A8   
Range
600 km
(3,670 nm)
Trans-continental
5,550 km
9,600 km
(5,200 nm)
Trans-atlantic
7,330 km
* 157,000 kg is standard for the -300, 164,000 kg is an option.
Engines
[
]
| Model | Date | Engines |
| --- | --- | --- |
| A310-203 | 1985 | General Electric CF6-80A3 |
| A310-204 | 2001 | General Electric CF6-80C2A2 |
| A310-221 | 1985 | Pratt & Whitney JT9D-7R4D1 |
| A310-222 | 1985 | Pratt & Whitney JT9D-7R4E1 |
| A310-304 | 1988 | General Electric CF6-80C2A2 |
| A310-322 | 1987 | Pratt & Whitney JT9D-7R4E1 |
| A310-324 | 1987 | Pratt & Whitney PW4152 |
| A310-325 | 1996 | Pratt & Whitney PW4156A |
A310 deliveries
[
]
By the end of March 2007 a total of 260 A310s had been ordered and 255 delivered.
|  2005  |  2004  |  2003  |  2002  |  2001  |  2000  |  1999  |  1998  |  1997  |  1996  |  1995  |  1994  |  1993  |
| --- | --- | --- | --- | --- | --- | --- | --- | --- | --- | --- | --- | --- |
| 0 | 0 | 0 | 0 | 0 | 0 | 0 | 1 | 2 | 2 | 2 | 2 | 22 |
|  1992  |  1991  |  1990  |  1989  |  1988  |  1987  |  1986  |  1985  |  1984  |  1983  |  1982  |  1981  |  1980  |
| 24 | 19 | 18 | 23 | 28 | 21 | 19 | 26 | 21 | 17 | 0 | 0 | 0 |
See also
[
]
Competition between Airbus and Boeing
Related development
Aircraft of comparable role, configuration and era
Related lists
References
[
]
External links
[
]