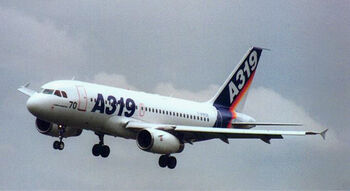 Originally marked as the A320-7, the Airbus A319 is a shortened, minimum change version of the A320. With virtually the same fuel capacity as the A320-200, and fewer passengers, the range with 124 passengers in a two-class configuration extends to 3,600 nautical miles (6,900 km), the highest in its class. The A320 and A319 are the most popular variants of the A320 family. In 2003 easyJet took delivery of A319s with smaller galleys (as easyJet does not serve meals) and 156 seats in a single class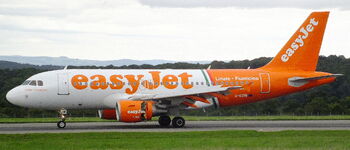 configuration. To satisfy evacuation regulations, additional over-wing exits were included.Indian Voter List Constituency
According to the New York Times[1], the A319 has been introduced upon request by Steven Udvar-Hazy.
With jet fuel prices rising dramatically, Northwest Airlines is replacing McDonnell Douglas DC-9 aircraft it has had in service for decades, because the A319 is 27% more fuel efficient than the DC-9.[2]
The direct Boeing competitor is the 737-700.
The large easyJet order of 120 A319s plus 120 options was among the biggest aircraft sales deals in recent times, rivaled only by chief competitor Ryanair's order for Boeing 737 aircraft.
It is powered by the same types of engine as the A320. JAA certification and service entry, with Swissair, took place in April 1996.
A319CJ
This is the corporate jet version of the A319. It incorporates extra fuel tanks which are installed in the cargo compartment giving a range of 6,500 nautical miles (12,000 km). Upon resale the aircraft can be reconfigured as a standard A319 by removing its extra tanks, thus maximizing its resale value. It is also known as the ACJ, or Airbus Corporate Jet.
The A319CJ is used by the Escadron de transport, d'entraînement et de calibrage which is in charge of transportation for France's officials and was also ordered by the Flugbereitschaft of the Luftwaffe for transportation of Germany's officials. Since 2003, an ACJ is the main presidential aircraft of Brazil, Venezuela, Thailand, Czech Republic, and Malaysia[verification needed].
The aircraft seats up to 39 passengers but may be outfitted by the customers into any configuration. Daimler AG and Reliance Industries are among its users. The A319CJ competes with other corporate jets such as the Gulfstream V, the Boeing 737-700 based Boeing Business Jet (BBJ), and Bombardier's Global Express. It is powered by the same engine types as the A320.
A319LR
The A319LR is a standard A319 that incorporates some features and additional fuel tanks of the A319CJ. Airbus offers it in a standard airline layout, although many customers operate it in an all-business class layout with 48 seats, specifically tailored for exclusive business class services on intercontinental routes. The A319LR, compared to the A319CJ, has four auxiliary fuel tanks instead of six. Typical range is 4,500 nautical miles (8,300 km).
Lufthansa, KLM, Swiss International and Air France operate a premium business service between Europe and the USA using a fleet of A319LRs operated by the French Aero Services and the Swiss PrivatAir. However, Qatar Airways fit their A319LRs with standard seatings with 110 seats. Air France operates the A319LR in a reduced density layout and flies it to the Middle East and central Asia.
The Australian Antarctic Division uses an A319-115LR aircraft, operated on their behalf by Skytraders, to provide an intercontinental link from Hobart, in Tasmania, to an ice runway near their research station at Casey on the Antarctic continent. Each flight carries up to 40 passengers and up to 6 tonnes of cargo.[3]
The closest Boeing equivalent is the 737-700ER which has a maximum range of 5,510 nautical miles (10,200 km).
☀Air India offering Free Flight Tickets For Frequent Fliers
Community content is available under
CC-BY-SA
unless otherwise noted.