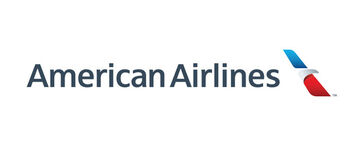 American Airlines
is the largest airline in the United States. It's headquarters are located in the city of Fort Worth, Texas and it's main hubs are located in Dallas Fort Worth International Airport in Dallas, Texas; Miami International Airport in Miami, Florida; and John F. Kennedy International Airport in New York City, New York. It's currently a One World Alliance partner.
IATA:AA/ICAO:AAL
US Airways Merger
Edit
In 2013 American Airlines merged with US Airways in order to proclame as the world's biggest airline. Then in 2014, US Airways left the Star Alliance and joined oneworld.
Controversy
Edit
In mid-2011 American Airlines implanted a new boarding process where seats were filled from back to front, which generated discomfort between passengers and flight attendants due to long waitings in gates. 1
In September 2012 American Airlines denied boarding to a 16-year old boy with down syndrome because they declared he was agitated, not ready to fly and looking forward to the possibility of disturbing first-class passengers, which was denied by his family. 2
Accidents and Incidents
Edit
On May 25, 1979, a McDonnell Douglas DC-10 operating as Flight 191 lost its left (#1) engine just as it took off from Chicago O'Hare Airport, severing hydraulics and crashed into a trailer park, killing all 271 people on board plus 2 on the ground. It is the deadliest aviation accident in US history.
In September 11, 2001 a Boeing 757 and a Boeing 767 were hijacked and crashed in terrorist actions leaving no survivors in both aircraft. The first one was crashed against Tower #1 of the World Trade Center in New York, the second one was crashed against the Pentagon in Arlington, Virginia.
In November 12, 2001 an Airbus A300 crashed in a residential area of New York City after losing it's tail due to a rudder forcing commited by the pilot, all people on board with 5 people in ground were killed. Due to it's casual two-month closeness with September 11 and it's again New York location it was firstly suspected to be another terrorist attack.
In Popular Culture
Edit
American Airlines was product-placed as the favorite airlines of McAllister family in Home Alone 1 and 2.
Guatemalan singer Ricardo Arjona mentions the airline in his song "Olvidarte", where he says: "Más dificil que fumarse un habano en American Airlines" (Harder than smoking a Cuban cigar in American Airlines)
American Airlines currently sponsors two NBA arenas, the American Airlines Center in Dallas (home of the Mavericks) and the American Airlines Arena in Miami (home of the Heat). In 2006 NBA Finals were nicknamed "American Airlines Final" due to the meeting of both teams in both finals having American Airlines name in both arenas.
American Airlines is known for never painting a base color in aircraft, leaving the natural silver color of the plane metal exposed.
In 1987, American Airlines saved $40.000 per year after removing an olive from each salad served in first class.
After 9/11 attacks, American was one of the first airlines to remove knives and forks from passengers' food concerned about their possible use as weapons, instead they started to use plastic cutlery and changing the menu over the years until snacks like sandwiches and others turned for sale in flight.
Despite being United States major airline, it's does not include Boeing 747 aircraft on it's fleet. They used the 747-100 in the 1970s and the 747SP in the 1990s.
Reference
Edit
1 Controversy surrounds new American Airlines boarding process
2 American Airlines Controversy: Down Syndrome Boy Denied Boarding
Community content is available under
CC-BY-SA
unless otherwise noted.