Jurassic World: Dominion Dominates Fandom Wikis - The Loop
Play Sound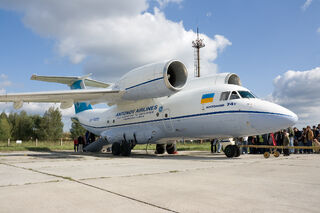 The Antonov An-72 (NATO reporting name Coaler) is a transport aircraft developed in the former Soviet Union. It was designed as a STOL transport and intended as a replacement for the Antonov An-26, but variants have found success as commercial freighters.
Design and development
[
]
The An-72 first flew on 22 December 1977. Produced in tandem with the An-72, the Antonov An-74 variant adds the ability to operate in harsh weather conditions in polar regions. Other An-72 versions include

the An-72S VIP transport and An-72P maritime patrol aircraft.
An unusual design feature of the An-72 and An-74 is the use of the Coandă effect to improve STOL performance, utilizing engine exhaust gases blown over the wing's upper surface to boost lift. The first flight was made in August 31, 1977, but it was only in the 1980s that production started. The power plant used is ZMKB Progress D36. The An-72 bears a resemblance to an earlier aircraft, the Boeing YC-14, which also used overwing engines and the Coandă effect.
The An-72 is often called cheburashka by Russians because with its large intake ducts located close to the fuselage, it resembles a popular animated creature in Russian cartoons.
Price for a new built An-74 in 2006 is quoted as being $17-20 million.[verification needed]
Variants
[
]
An-72 - Pre production aircraft. Two flying prototypes, one static test airframe and 8 pre-production machines.
An-72A - Main production version with increased fuselage length and wing span.
An-72AT - Specialist cargo-carrying version equipped to accommodate standard containers.
An-72S - Executive version with three cabins separated by bulkheads. Rear contains 24 armchairs.
An-74 - Arctic support version. Increased fuel capacity. Can be fitted with skis. Identified by observation blisters on fuselage sides and enlarged radome.
An-74MP - Marine Patrol version. Can transport 44 soldiers, 22 para-troops, 16 stretchers with medical staff, or 10 tonnes of cargo.
Operators
[
]
Civil operators
[
]
In August 2006 a total of 51 Antonov An-72 and Antonov An-74 aircraft remain in airline service. Major operators include Badr Airlines (3), Air Armenia (3), Enimex (5), Gazpromavia (12), and Shar Ink (8). Some 17 other airlines operate smaller numbers of the type.[1]
Template:ARM
Template:EST
Template:RUS
Template:USSR
Template:SUD
Military Operators
[
]
Template:EGY
Egyptian Air Force

- 3(6 more on order)
Template:GEO
Template:IRN
IRGC AF

- 12 (An-74TK-200)
Template:MDA
Template:RUS
Template:UKR
Specifications (An-72P)
[
]
Crew: 5
Passengers: 52
Length:
See also
[
]
Related development
Aircraft of comparable role, configuration and era
Related lists
List of military aircraft of the Soviet Union and the CIS
References
[
]
External links
[
]
Template:Commonscat
Template:Antonov aircraft Template:Aviation lists