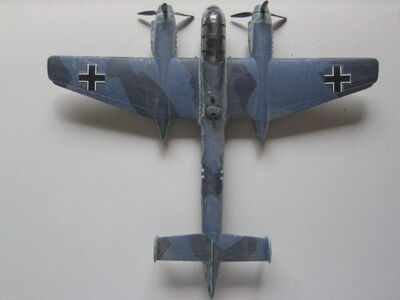 The Arado Ar 240 was a German heavy multirole fighter by Arado Flugzeugwerke, from World War II.
History of it
[
]
The Ar 240 was the result of a requirement of the Reichsluftfahrtministerium, to develop a new Destroyer, bomber, high-altitude fighter, night-fighter and reconnaissance aircraft. It was created to be a more advanced alternative to the earlier Me 210 destroyer.
The aircraft was designed to have minimum air resistance, therefore the whole surface was to be reduced and the addition of nose-dive airbrakes, pressurized cabins and the FA-13 gun barbette system caused high weight and thus a critical wing loading, of up to 390 kg/m². Fortunately, Arado developed the "Arado travelling flap", which offered excellent low-speed lift performance and allowed it to stay in the air.
Production of two prototypes began in summer 1939, which were finished in 13 months. The prototypes had no weapons at this time, because the gun barbettes weren't available. These were later tested on a modified Messerschmitt 110C-2/U1 in 1940.[1]
The first flight of the Arado V1 took place on 10th May 1940, two months later, the V2 followed. Unfortunately, both aircraft had really bad flight performance. So that its fuselage was lengthened and the cabin was moved forward. The slightly modified Ar 240 V3 was first flown in 1941. However the plane was still too unstable. To solve the problem, "Arado traveling flaps" replaced the old ailerons. So that it was finally delivered to the Luftwaffe in summer 1941. And now the gun barbettes and all other weapons were removed and the Ar 240 was used from then on as a reconnaissance aircraft, completing a number of missions over Britain.[2]
The V4 was developed to be a dive-bomber and was powered by DB-603A-engines. The V5 and V6 were first flown in October 1942. The handling characteristics of the aircraft were greatly improved. It was planned to build 40 of them but Erhard Milch cancelled production, shortly before it could begin. Only four pre-service aircraft A-01 to A-04 were completed and four additional, modified aircraft V7-V10 were built.
References
[
]
↑ Kay, Antony L and J R Smith. German Aircraft of the Second World War. Putnam Aeronautical Books. ISBN 0 85177 920 4 Page 35
↑

Kay, Antony and J R Smith. Page 36