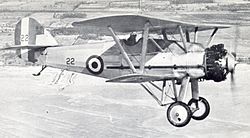 This Armstrong Whitworth Siskin was a fighter from 1920, originally designed for the Royal Air Force. It first flew in 1919, with a 270hp Dragonfly engine, which showed to have insufficient performance, so it had to be replaced by a Jaguar IV engine, delivering a power of 400 hp.
It, although, was a comercial success, sold for the Romanian Air Force, Sweden and the Royal Canadian Air Force. Counted with a large range of variations, including:
Siddeley Deasy S.R.2 Siskin – Prototype fighter aircraft built by Siddeley Deasy and powered by Dragonfly engine. Three built.
Siskin II – fabric covered steel-tube fuselage and wooden wings. Two built, one two-seater and one single-seater.
Siskin III – all-metal production version (64 built for RAF)
Siskin IIIA – main production variant ordered in 1926 (Total 348 built, 340 for RAF, eight for RCAF)
Siskin IIIB – prototype with improved engine. Single example converted from Siskin IIIA.
Siskin IIIDC – two-seat dual control version (Total 53 built, 47 for RAF, two for RCAF, two for AST, two for Estonia) a further 32 were converted from Siskin IIIs.
Siskin IV – civil racing version (one built)
Siskin V – single-seat fighter for Romania. 65 ordered and at least 10 completed before order cancelled. Two used for racing.