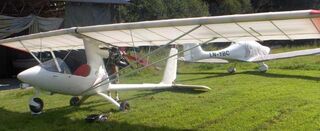 The Aviasud Sirocco is a single-seat ultralight available in kit or fully assembled form and originally produced by Aviasud Engineering in 1983. It is of pod-and-boom design with tricycle undercarriage and pusher configuration. The fuselage is of composite construction. In 1984, one was flown by Patrice Franceschi in a circumnavigation of the earth.
In 1989, manufacture transferred to Aériane in Belgium. In 2007, the rights to the Sirocco were acquired by Aero Consult Light Aircraft, who have redesigned the tailplane and wings and are re-launching the aircraft as the Sirocco NG. The first flight of the prototype for this was in May 2009. The Sirocco NG is available as a kit, or in its lighter version (FAR 103/SSDR) fully built.
Community content is available under
CC-BY-SA
unless otherwise noted.