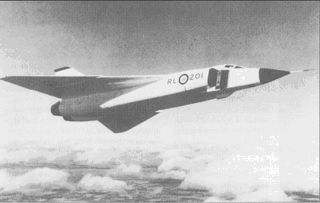 The CF-105 Arrow was a Canadian interceptor designed in 1958. A sleek delta-winged design, there were five completed prototypes, and one which was only 93% complete. In 1959 however, the project was cancelled. The design was considered by many to be generations ahead of its time.
History
[
]
The CF-105 originated from a 1952 requirement from the Royal Canadian Air Force, which led to an order for 37 development and pre series aircraft. The first five, known as Arrow Mk 1s, were powered by a pair of Pratt & Whitney J75-P-3 or -5 turbojets, each rated at 12,500lb st dry and 18,500lb st with afterburner. The remaining aircraft, as Arrow Mk 2s, would have been fitted with Orenda PS-13 Iroquois turbojets rated at 19,250lb st dry and 26,000lb st with afterburning. The aircraft would have carried an internal load of six Falcon or eight Sparrow AAMs.[1]
Testing
[
]
The first Mk 1 - RL 201 - made its initial flight on 25 March 1958, with 202 flying on 1 August, 203 on 22 September, 204 on 27 October and 205 on11 January 1959. The third flight saw the type reach Mach 1.5 at 50,000ft. When the programme was cancelled on 20 February 1959, the top speed of the Mk 1 had reached Mach 1.98. In addition, the first Mk 2 - RL206 - was on the verge of joining the test programme, while four more Mk 2s were virtually complete.[1]
Cancellation
[
]
When the plane was cancelled, all parts, engines, tools and technical data was destroyed because - according to the Cabinet and Chief of Staff - they used "secret materials." Today, there is still major controversy concerning the Avro Arrow. Some blame it on the U.S. government threatening Canada to stop with the design, while others claim that the Canadian government considered it redundant- missiles were thought to be the future of intercepting bombers in the 1950's.
Survivors
[
]
There are a few remaining parts of the Avro Arrow that survive today. The Arrow 206's front part, the cockpit and nose with the air intakes, is located in the Canadian Aviation and Space Museum. Prototype #3's outer wings are located at the same museum as well.
There is a rumor that one of the five planes was actually stowed away for posterity. Whether this is true or not is unknown currently.
Developments
[
]
An updated version of the Arrow, the Super Arrow has been proposed to replace the Nothrop CF-188 Hornet fighters that are currently slated for replacement by the F-35. As the F-35 has slid in delivery date and risen in cost, the Canadian government has considered cancelling the buy and starting a new competition.[2]
Specification (Mk 1)
[
]
Max Speed - 1,307mph (2,104kp/h) at 50,000ft (15,420m)
Max Cruise - 607mph (977kp/h) at 36,000ft (10.976m)
Max Combat Radius - 410 miles (660km)
Empty weight - 49,040lb (22,244kg)
Loaded Weight - 68,60lb (31,118kg)
Span - 50ft (15.24m)
Length - 83ft (25.3m)
Height - 20ft 6in (6.25m)
Gallery
[
]
References
[
]
Bibliography
[
]
Green, William and Gordon Swanborough. The Complete Book of Fighters. Salamander. 2001