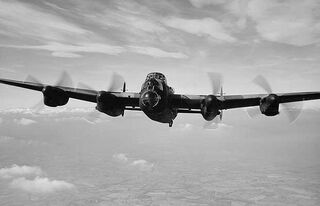 The Avro Lancaster was a Heavy Bomber designed and manufactured by Avro.
Design and Production
[
]
The Lancaster is a modified version of the Avro Manchester, which was two engined, medium bomber. The Manchester's main problem was the Rolls Royce Vulture engines it used because they were underpowered and unreliable.
Avro's Chief Designer Roy Chadwick worked on a new version of the Manchester, designated the Manchester III, later renamed the Lancaster. Chadwick's design basis was using 4 Rolls Royce Merlin engines on a longer and wider wing than the Manchesters.
Bomber Commad
[
]
The primary user of the Lancaster was the Bristish Bomber Command where it's primary role was that of a heavy bomber.
The Lancaster was brought into service with 44 Squadron, RAF Bomber Command in early 1942.
By the end of the war the Lancaster had flown 156,000 sorties over 3 years and had dropped 618,378 tonnes of bombs over occupied Europe.
Famous Raids
[
]
The Lancaster participated in many daring raids in the Second World War which have no became ledgendary.
The DamBusters
[
]
One of the most famous operations during the War in which 617 squadron commanded by Wing Commander Guy GIbson VC DSO DFC attacked three Nazi dams in the Ruhr valley. In the raid the squadron succesfully breached two of the dams (The Mohne and the Eder dams). The squadron aircraft T for Tommy managed to drop a bomb on the Sorpe dam which exploded but did not breach the dam.
The squadron attacked the dams with a 'Bouncing Bomb' which is actually designated a depth charge ws designed by Barnes Wallis and produced by Vickers-Armstrong.
Post War
[
]
There are currently two airworthy Lancasters - one based in Canada, and the other based in the UK with the Battle of Britain Memorial Flight. Overall there are 25 aircraft which remain althoug they are in a variety of conditions (On display, restoration etc)
After the War many Lancasters were flown to Canada where they were given a maritime Search and Rescue role.
Other aircraft were either sold as scrap or flown to various museums to undertake restoration and are now on public display.