British European Airways (commercially known as BEA) was a British carrier based in Heathrow Airport in London.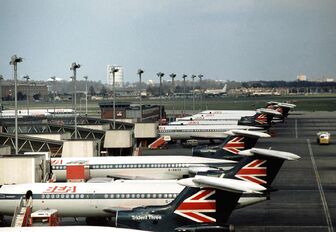 It was later merged with BOAC to form British Airways.
History
[
]
Initially established as a division of BOAC, BEA became a separate entity under the terms of the Civil Aviation Act of 1946. After taking over the commercial routes of 110 Wing of RAF Transport Command on 4th February 1947, BEA began operations on 1st August. On 1st September, the 21 strong Dakota fleet was joined by the first of BEA's 75 Vickers Vikings, which were subsequently grounded between December 1946 and April 1947 due to icing up of the control surfaces.[1]
On 1st February 1947, BEA absorbed a number of independent operators due to nationalisation of all domestic services, as dictated by the second provision of the Civil Aviation Act. This led to BEA inheriting a number of aircraft types. Following rationalisation of BEA's fleet, the company widened it's European influence, partly due to political directives resulting in BEA assisting other countries in re-establishing their war ravaged air transport systems.[N 1]
In 1948, BEA became involved in the Berlin Airlift, as well as developing the use of helicopters for mail services in East Anglia and Dorset, before starting a passenger service between Liverpool and Cardiff, followed by another between a heliport on the South bank to Heathrow Airport.[N 2]
Aircraft
[
]
Douglas DC-3
Vickers Viking
De Havilland Comet
Hawker Siddeley Trident
Accidents and Incidents
[
]
In June 18, 1972 a Hawker Siddeley Trident piloted by the recognized Captain Stanley Key crashed after taking off from Heathrow Airport en route to Brussels, Belgium in a field next to a highway in Staines killing all 188 peolpe on board. Investigation revealed that one of the pilots threw the alieron lever by himself causing the crash, but due to the lack of cockpit voice recorder it became impossible to know the real reasons why it was done.
References
[
]
Notes
[
]
↑ This resulted in BEA incurring losses of over £5 million during the first two financial years of operations.[1]
Sources
[
]