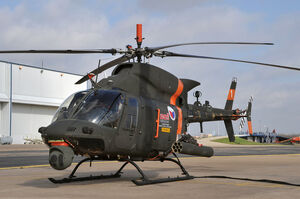 The Bell ARH-70 Arapaho is a cancelled light military helicopter designed for the United States Army. It would have been used for armed reconnaissance mainly in urban combat and has a crew of two.
Crew: 2 pilots
Max Capacity: 6 passengers
Rotor Size: 10.67 m
Height: 3.56 m
Length: 10.57 m
Max speed: 161 mph - 259 km/h
Cruising speed: 130 mph - 209 km/h
Service ceiling: 20,000 ft - 6,096 m
Range: 186 miles - 300 km
Weaponry: M310 hellfire launcher, M260 rocket launcher, HMP 400 machine gun, GUA-19 machine gun.
Community content is available under
CC-BY-SA
unless otherwise noted.