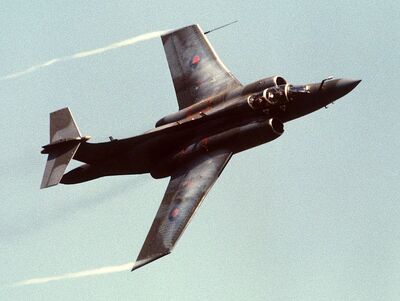 The Blackburn Buccaneer was a British twin-engine strike aircraft designed by Blackburn Aircraft and used during the Cold War. 
History
[
]
Design work on the Buccaneer began in June, 1952, when the Royal Navy issued requirement NA.39 for a two-seater naval strike aircraft that could be used to combat Soviet warships. Blackburn's design (known then as Project B-103) won in 1955, resulting in an order for an evaluation batch of 20 aircraft being placed in July.[1]

The aircraft first flew on April 30th, 1958, powered by a pair of 7,000 lb st (31.14 kN) de Havilland Gyron Junior DGJ-1 turbojets. The forth example was used for carrier compatibility trials, as this was the first example fitted with folding wings and nose, arrester hook and catapult spools. The trials led to the placing of an order in October 1959 for 40 Buccaneer S.Mk 1 aircraft, powered by 7,100 lb st (31.58 kN) Gyron Junior 101 engines, the first of these making it's initial flight on January 23rd 1962.[1]
The Buccaneer entered service on July 17th, 1962 with 801 Squadron, who embarked aboard Ark Royal during January 1963.
Capable of carrying a nuclear payload, the Buccaneer was used by the Royal Navy and Air Force, as well as by the South African Air Force. They were used to bomb several wrecked oil tankers in order to prevent environmental disasters, and participated in a number of Red Flag and Maple Flag combat exercises in the United States and Canada, respectively. The Buccaneer also participated in the Gulf War, dropping bombs and designating targets for other strike aircraft. It was finally retired in 1994, by which time it was largely replaced by the Panavia Tornado.
Specifications
[
]
Powerplant: two Rolls-Royce Spey Mk 101 turbofan engines
Top speed: 667 mph
Range: 2,300 miles
Ceiling: 40,000 feet
Crew: 2
Empty weight: 30,000 pounds
Length: 63 feet 5 inches
Wingspan: 44 feet
Height: 16 feet 3 inches
Armament: 4 hardpoints capable of carrying rockets, bombs, or missiles; 1 internal bomb bay capable of carrying up to 12,000 pounds of ordnance.
References
[
]