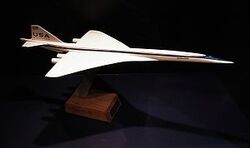 The Boeing 2707 was developed as the first American Supersonic Transport (SST). After winning a competition for a government-funded contract to build an American SST, Boeing began development at its facilities in Seattle, Washington. Because of high costs and a not clear market it was cancelled in 1971, before the second prototype finished.
Specifications (Boeing 2707-200)
Edit
General characteristics
Payload: 75,000 lb (34,000 kg) maximum

Wingspan

: 180 feet 4 inches (54.97 m) spread 05 feet 9 inches (32.23 m) swept ()
Height: 46 ft 3 in (14.10 m)
Empty weight: 287,500 pounds (130,400 kg) (International model)
Loaded weight: 675,000 pounds (306,000 kg) (maximum ramp weight)
Max. landing weight: 430,000 pounds (200,000 kg)
Performance
Cruise speed: Mach 2.7: 1,800 miles per hour (2,900 km/h)
Range: 4,250 mi (6,840 km) with 277 passengers
Community content is available under
CC-BY-SA
unless otherwise noted.