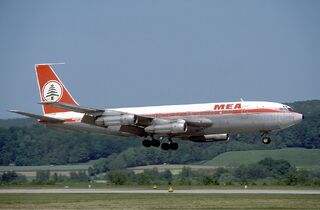 The Boeing 720 is a four-engine narrow-body short- to medium-range passenger jet airliner. Developed by Boeing in the late 1950s from the Boeing 707, the 720 has a shorter fuselage and less range. The 720 first flew in November 1959 and the model entered service with launch customer United Airlines in July 1960.
Two primary versions of the aircraft were built. The original 720 with Pratt and Whitney JT3C, turbojet engines entered service in 1960, while the improved 720B with Pratt and Whitney JT3D turbofans entered service in 1961. Some 720s were later converted to 720B specification.
Although only 154 were built, the Boeing 720/720B was still profitable due to the low research and development costs of it being a slightly modified version of the 707-120. It was later replaced by the Boeing 727.
Specifications
[
]
720
707-120B
707-320B
Cockpit crew
Three
Passengers
167
110 (2 class)

179 (1 class)

147 (2 class)

202 (1 class)

Length
136 ft 2 in (41.25 m)
145 ft 1 in (44.07 m)
152 ft 11 in (46.61 m)
Wingspan
130 ft 10 in (39.90 m)
145 ft 9 in (44.42 m)
Tail height
41 ft 7 in (12.65 m)
42 ft 5 in (12.93 m)

Maximum Takeoff Weight (MTOW)

222,000 lb (100,800 kg)
257,000 lb (116,570 kg)
333,600 lb (151,320 kg)
Empty weight
103,145 lb (46,785 kg)
122,533 lb (55,580 kg)
146,400 lb (66,406 kg)
Runway needed at MTOW
8,300 ft (2,515 m)
11,000 ft (3,330 m)
10,840 ft (3,280 m)
Fuel Capacity
16,060 US gal (60,900 l)
17,330 US gal (65,590 l)
23,820 US gal (90,160 l)
Landing run
5,750 ft (1,740 m)
6,200 ft (1,875 m)
5,950 ft (1,813 m)
Operating range (Max Payload)
3,680

nmi

(6,820 km)
3,735 nmi (6,920 km)
Range at MTOW (max fuel)
3800

nmi

(7,040 km)
4,700

nmi

(8,704 km)
5,750 nmi (10,650 km)
Cruising speed
540 kn (1000 km/h)
525 kn (972 km/h)
Fuselage width
12 ft 4 in (3.76 m)
Powerplants (4 x)
Pratt & Whitney JT3C-7:
Pratt & Whitney JT3D-1:

17,000 lbf (75.6 kN)

PW JT3D-3: 18,000 lbf (80 kN)


PW JT3D-7: 19,000 lbf (84.4 kN)
See also
[
]
Aircraft in fiction, Boeing 707
Related development
Boeing C-137 Stratoliner

Shanghai Y-10
Aircraft of comparable role, configuration and era
Related lists