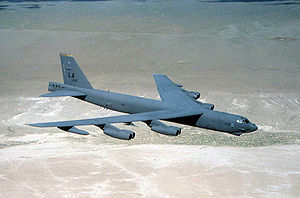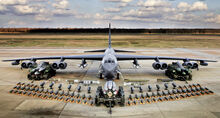 The Boeing B-52 Stratofortress is a multi-engine, heavy long-range bomber of the US Air Force.
Description
[
]
The B-52 was designed at the end of the 1940s and first flown in 1952. The B-52 evolved into the US Air Force´s bomber with the longest service life, though today only the B-52H is operational.
The B-52 was first used in Vietnam War for Carpet Bombing and in Kosovo War and the Gulf War as a Cruise Missile platform. The B-52 was last used in 2001 in Afghanistan and 2003 in Iraq War for Close Air Support. The B-52 will be in service until 2040 and then it would be the longest in service being Military Aircraft of all times. Crew members of the stratofortress often called the jet "BUFF" (Big Ugly Fat F***er or Fellow).
History
[
]
Development of the B-52 began in 1946, when the Pentagon asked Boeing to build a new strategic bomber. Boeing began with a pair of straight wing turboprop designs, designated 462 and 464, eventually considering 30 combinations of engine, wing and gross weight, before settling on the eight jet swept wing 464-49.[N 1] Two prototypes with tandam cockpits and eight 10,000 lb (45 kN) Pratt & Whitney JT-3A (J57-P-3) engines, the XB-52 and YB-52, were built under conditions of great secrecy, with the YB-52 making the first flight on 15th April 1952. Taking off from Seattle, Wazshington with test pilot Tex Johnston at the controls, the YB-52 stayed airborne for three hours.[1]
The first B-52s to enter service were the B-52Bs assigned to the Strategic Air Command's 93rd Bombardment Wing (Heavy) at Castle AFB near Merced, California, which received their first aircraft on 29th June 1955.[2]
Variants
[
]
B-52A: Initial Bomber variant.
B-52B: Improved B-52A.
B-52C: B-52B with fittings for reconnaissance capsule in bomb bay.
B-52D: B-52C without reconnaissance capsule capability.
Gallery
[
]
References
[
]
Notes
[
]
↑ One of the rejected concepts was the 464-35, a swept wing aircraft with four turboprops, similar in concept to the Tupolev Tu-95.[1]
Sources
[
]