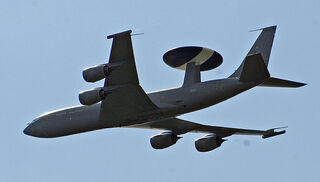 The
Boeing E-3 Sentry
is an
AWACS
aircraft based on the
Boeing 707-320,
 used by the
US Air Force
, NATO countries,
Royal Air Force
, the
French Air Force
 and the
Royal Saudi Air Force
.
Funding started in the 1960s, while the US Air Force searched for a replacement for the ageing EC-121 AWACS aircraft, with a 1963 requirement for up to 64 aircraft.[N 1] Boeing was chosen to construct the two airframes designated EC-137D,[1] one for Westinghouse Electric´s and another one for Hughes´s radar. Westinghouse´s design was chosen as the winner. Full scale development began on 26 January 1973.[2] Testing phase on the first E-3 Sentry began in 1975.

E-3A: NATO standard aircraft, developed as an improved version of the USAF Core E-3A.
E-3B: First 24 USAF E-3A aircraft upgraded with CC-2 computer also used on NATO aircraft.
E-3C: Later USAF aircraft with improved command/control capability.
E-3D: RAF version with Lorel Yellow Gate ESM wingtip pods and CFM-56 turbofans. Designated Sentry AEW Mk 1 in RAF service.
E-3F: French variant.[3]
References
Edit
↑

This was later reduced on economic grounds.
↑ World Aircraft Information Files Aviation Partwork. Midsummer Books Ltd. File 890 Sheet 62 (A-Z of Aircraft:B - Boeing Model 707 (continued) to Boring Model 707 (E-3 Sentry, E-6 Mercury and E-8 J-STARS)
↑ World Aircraft and Systems Directory - Third Edition. 2002. Reed Business Information Ltd. ISBN 0 617 01289 X Page 362
↑

WA&SD - Third edition. Page 363
Community content is available under
CC-BY-SA
unless otherwise noted.