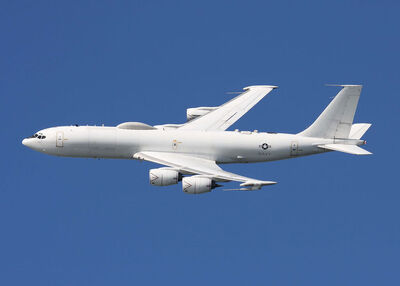 The Boeing E-6 Mercury is an airborne command and control aircraft based on the Boeing 707-320.
The E-6 was developed in the 1980s and first flew on February 19, 1987. It entered service two years later, replacing the US Navy's EC-130 fleet. The E-6 was known as Hermes until 1991, when it was renamed Mercury. It is used as an airborne command post for the United States Strategic Command, instructing the various components of the US Armed Forces, from nuclear submarines to bombers. It has been codenamed Looking Glass, and continues to serve in this role today. 16 have been built.
Specifications
Edit
Powerplant: Four CFMI CFM-56-2A-2 turbofan engines
Top speed: 600 mph
Range: 7,590 miles
Ceiling: at least 40,000 ft
Crew: 12-25
Capacity: 23 people
Empty weight: 172,842 lbs
Length: 150 ft 4 in
Height: 42 ft 5 in
Wingspan: 148 ft 4 in
Community content is available under
CC-BY-SA
unless otherwise noted.