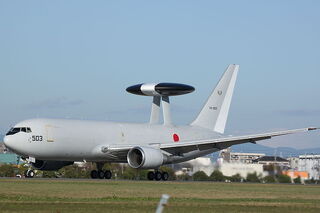 The Boeing E-767 is an Airborne Warning and Control System (AWACS), which was designed to succeed the Boeing E-3 Sentry. The aircraft was based on the Boeing 767-200ER and it has the same radar as its predecessor. Only the Japanese Air Self Defence Force (JASDF) currently operates the E-767.
History
[
]
In the year 1976, the Soviet pilot Viktor Ivanovitsh Belenk
o deserted sucessfully with his MiG-25P Foxbat in Japanese Air Space over Hakodate. Despite the MiG-25's relatively easy trackability by radar, Japanese ground-based radars had problems following his aircraft, allowing him to escape easily. This called for an AWACS aircraft for Japan.
The first candidate for this role was the E-3 Sentry, which was still in development at the time. Japan was skeptical that the USA would offer the aircraft for export readily, because of their own needs, so it was decided to purchase the E-2C Hawkeye by Grumman. These aircraft entered service with the JASDF in January 1987. The E-2C greatly enhanced air surveillance, but they still had the disadvantage of low flight endurance and range.
Japan tried to buy the E-3 again in 1991, but unfortunately Boeing had halted production of the Boeing 707 (the aircraft the E-3 is based on) that year. Thus, Boeing unveiled an alternative concept of an AWACS based on the 767, but with 50% more internal space than the Sentry.
The main external difference between the E-767 and its predecessor is the large rotodyme above the aircraft's fuselage. The radar of the E-767 is the Pulse Doppler radar AN/APY-2, that operates in frequencies of 2-4 GHz. Japan was interested in the new design and ordered two aircraft in 1993 and an additional two in 1994.
The first flight of the E-767 took place on 4th October 1994. The first test flight with complete radar equipment was made on 9th August 1996. On 11th March 1998, the first two aircraft were delivered. The last two were delivered on 5th January 1999. All four aircraft entered service on 10th May 2000 with the 610st AEWG-squadron at Hamamatsu Air Force Base.
Specifications
[
]
Crew: 21 (2 flight crew, 19 AWACS mission specialists)
Top speed: Over 800km/h
Range: 10,370km
Armament: None
Source: Boeing [1]
References
[
]