The
Boeing KC-135 Stratotanker
is a military aircraft designed for
aerial refuelling
. It was developed alongside the
Boeing 707
airliner from the
Boeing 367-80
prototype. The KC-135 is also considered as the US Air Force's first jet-powered refueling tanker, it has replaced the
KC-97 Stratofreighter
. The Stratotanker was initially designed to refuel strategic bombers, however it was used extensively in the Vietnam War and later conflicts such as Operation Desert Storm to extend the range and endurance of US tactical fighters and bombers.
Serving with the United States Air Force (USAF) since 1957, it is one of just six military fixed-wing aircraft with over 50 years of continuous service with the original operator. The KC-135 is supplemented by the larger KC-10 Extender. Studies suggest that the aircraft could remain operational until 2040. The aircraft is expected to be replaced by the Boeing KC-46 in future.
Operators
Edit
Current Operators
Chile - Air Force - 3x KC-135E
France - Armée de L'air - 3x KC-135R, 11x C-135FR
Turkey - Air Force - 7x KC-135R
United States - Air Force - 342x KC-135R, 54x KC-135T
Former Operators
Singapore - Air Force - 4x KC-135R
Specifications (KC-135R)
Edit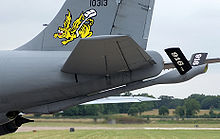 Data from USAF Fact Sheet. General characteristics
Crew: 3: pilot, co-pilot and boom operator. Some KC-135 missions require the addition of a navigator.
Capacity: 37 passengers
Payload: 83,000 lb (37,600 kg)
Length: 136 ft 3 in (41.53 m)
Wingspan: 130 ft 10 in (39.88 m)
Height: 41 ft 8 in (12.70 m)
Wing area: 2,433 ft² (226 m²)
Empty weight: 98,466 lb (44,663 kg)
Loaded weight: 297,000 lb (135,000 kg)
Useful load: 200,000 lb (90,700 kg)
Max. takeoff weight: 322,500 lb (146,000 kg)
Powerplant: 4 × CFM International CFM56 (F108-CF-100) turbofan, 21,634 lbf () each
Maximum Fuel Load: 31,275 US gal (118 m³)
Performance
Community content is available under
CC-BY-SA
unless otherwise noted.