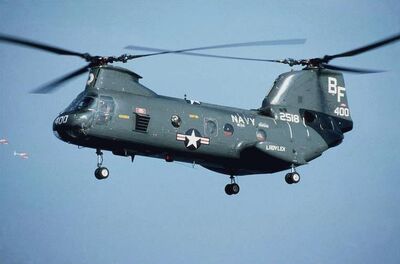 The CH-46 Sea Knight is a twin-engined military transport helicopter made by Boeing Rotorcraft Systems and used mainly by the United States Marine Corps. It first flew in August, 1962, and was introduced into service 1964. Over 520 have been built, and have been used by Canada, Japan, Sweden, Saudi Arabia, and Thailand.
Development of the Sea Knight began in 1956, after Piasecki Helicopter had been bought by Boeing. The first prototype was named the Vertol Model 107. In 1960, the US Marine Corps chose the CH-46 to replace their aging piston engine helicopters, and they entered service with them in 1961. The Sea Knight has also been used by the US Navy and the Department of State. 
The CH-46 is powered by 2 General Electric T58-GE-16 engines, which give it a top speed of 166 mph. It requires a crew of 5, but can hold an additional 24 troops or 5,000 lbs of cargo. It can also be armed with two door-mounted machine guns and one ramp-mounted machine gun. 
Gallery
[
]