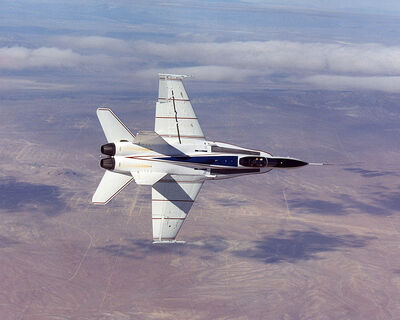 The
Boeing X-53
was a technology demonstrator for the "Active Aerolastic wing"-program (AAW) and was based on the F/A-18 Hornet.
The AAW was jointly undertaken by the Air Force Research Laboratory (AFRL), Boeing Phantom Works and the Dryden Flight flight Research Center (DFRC), where a modified F/A-18 Hornet was used to test the new technologies, which were developed. The AAW integrated testing of the aerodynamics of aircraft, control elements and aerolastic behavior of an aircraft, with the aim to maximise manoeuvrability and performance. This should be achieved through different control elements on the leading and trailing edges of the wings. These special control elements were designed to use the aerolastic twist of the wings better to provide enhanced control of the wings. So that at high speeds it is possible to gain higher manoeuvrability, while minimizing air loads during manoeuvring at high strain conditions but it is also possible to minimize drag at low wing strain conditions.
The modified F/A-18 Hornet had its first flight in November 2002 and was named X-53 on 8th December 2006.
Community content is available under
CC-BY-SA
unless otherwise noted.