The Bristol Bulldog was a British Royal Air Force single-seat biplane fighter designed during the 1920s by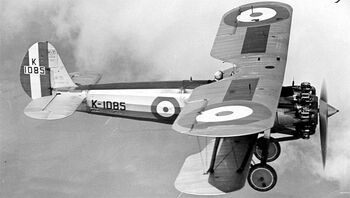 the Bristol Aeroplane Company. Over 400 Bulldogs were produced for the RAF and overseas customers, and it was one of the most famous aircraft used by the RAF during the inter-war period.
Design and development
[
]
The Type 105 was an unequal span single bay biplane powered by a supercharged Bristol Jupiter VII air-cooled radial engine driving a two-bladed propeller. The structure was all-metal with a fabric covering, using members built up from rolled high-tensile steel strips riveted together. In order to ensure the maximum field of view there was a large semi-circular cutout in the trailing edge of the upper wing and the inboard section of the lower was of reduced chord. Frise ailerons were fitted to the top wing only. It was armed with a pair of 0.303 in (7.7 mm) Vickers machine guns mounted either side of the cockpit.
The prototype Bulldog first flew on 17 May 1927. Initial testing was entirely satisfactory and it was delivered to RAF Martlesham Heath in June. After initial consideration of all the types entered to meet the specification, the Bulldog and the Hawker Hawfinch were selected for more detailed evaluation. While the Bulldog's manoeuvrability and strength were praised by the RAF, it had poor spinning recovery properties. This was solved by fitting an enlarged fin and rudder, but this modification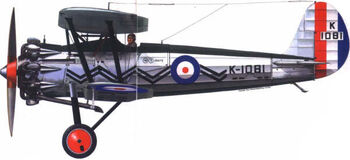 led to difficulties in taxying cross-wind.
Accordingly, a second prototype with a lengthened rear fuselage was ordered for further evaluation in comparison with the Hawfinch. In this form, designated the Type 105A or Bulldog Mk. II was first flown by Cyril Uwins on 21 January 1928 and shortly afterward, delivered to Martlesham Heath. Performance was so close to that of the Hawfinch that a decision was deferred until the aircraft had been evaluated by service pilots; the eventual choice of the Bulldog was made largely because it was easier to maintain. An initial contract for 25 aircraft was placed: Bristol accordingly laid down 26 airframes, the additional example being intended as a company demonstration aircraft. The first of these were delivered on 8 May 1929 and deliveries were complete by 10 October.
Later production aircraft were of a refined version designated the Mk. IIA. This had revised wing spars and a stronger fuselage and was powered by the uprated Jupiter VII F. One production aircraft was modified for use as an advanced trainer: after evaluation by the Central Flying School at Upavon this was ordered by the RAF, the production aircraft differing from the prototype in having slightly swept wings and an enlarged fin to improve spin recovery characteristics.