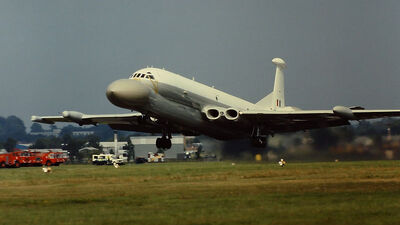 The British Aerospace Nimrod AEW3 was a planned but cancelled AWACS aircraft for the Royal Air Force of Great Britain.
History
[
]
In the 1970's and 80´s Great Britain needed a new aircraft for AEW- and AWACS- missions, due to the obsolescence of the Shackelton AEW Mk 2.

Because of frustration resulting from prolonged delays to the introduction of a NATO E-3 force, the British Government decided in 1977 to convert eleven British Aerospace Nimrod aircraft with a totally new avionics system, with radar scanners located in aerodynamic housings attached to the nose and the tail, supplemented by passive receiver pods on the wingtips. The radar and forward antenna were tested in a converted De Havilland Comet during June 1977, with the first BAe Nimrod AEW Mk 3 development aircraft flying in July 1980.[1]
Unfortunately, shortly after the eleven aircraft were finished and testing had already begun, most of the aircraft were shown to have technical problems. [N 1] Another problem was that the aircraft didn't meet the requirements during testing.[N 2] This resulted in the Ministry of Defence reopening the entire AEW competition in September 1986, ordering seven Boeing E-3D Sentry AWACS aircraft to replace the cancelled Nimrod AEW3 in December 1986.[1]
References
[
]
Notes
[
]
↑ These included:

Below specification main radar/noise ratio
Computers running out of capacity, and
Reduction in useable fuel and mission endurance, due to the need to dissipate excess heat from the electronics into the fuel.

↑

This was made worse by the customer constantly upgrading their requirements during the development phase.
Sources
[
]