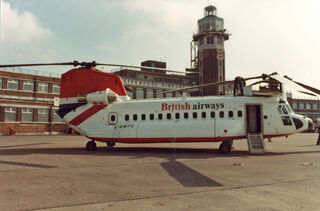 British Airways Helicopters was a British helicopter airline from 1964 to 1986.
From 1947 British Airways had operated a Helicopter Experiment Unit and five helicopters were ordered from the United States (three Sikorsky S-51s and two Bell 47s). The unit operated timetabled mail services in East Anglia during 1948 using their Sikorsky S-51s. A scheduled passenger service was operated during 1950 between Cardiff (Pengham Moors), Wrexham and Liverpool (Speke), also utilising the S-51s. These services w

ere followed in 1954 by a passenger service between Southampton Eastligh Airport, London Heathrow Airport and Northolt Airport (now RAF Northolt) using leased Bristol 171 helicopters. The 1955 passenger service was flown between Birmingham, Heathrow and Gatwick, again with the Bristol 171s. A separate company was formed in 1964 as BEA Helicopters Limited and operated the first service between Penzance and the Scilly Islands on 1 May 1964 with a Sikorsky S-61. The airline later expanded into offshore oil support flights from July 1965. Operations from Aberdeen started in July 1967 and in 1971 from Sumburgh. With the change of name of the parent on the 31 March 1974 the airline was renamed British Airways Helicopters. In 1981 the airline bought five Boeing 234 Chinooks for use on the offshore oil support flights. The company was involved in setting up the Airlink high-frequency helicopter shuttle service between Gatwick and Heathrow airports in 1978. It was responsible for engineering and maintenance of the BAA-owned helicopter and for providing the flight crew. It later passed these responsibilities to British Caledonian Helicopters. In 1986 the airline was sold by British Airways to Robert Maxwells's Maxwell Aviation and renamed British International Helicopters. The successor company still operated the Penzance to Isles of Scilly route forty years after it was first scheduled, until it was cancelled in 2012.
14 March 1992 — G-TIGH lost control and crashed into the North Sea near East Shetland Basin. 11 of the 17 passengers and crew died.
19 January 1995 — G-TIGK Operated by Bristow Helicopters ditched in the North Sea. There were no fatalities, however the aircraft was lost.
8 September 1997 — LN-OPG, an AS332 L1 operated by Helikopter Service AS from Brønnøysund to the Nome oil field suffered a catastrophic main gearbox failure and crashed, killing all 12 aboard. Eurocopter accepted some but not all of the AAIB/N recommendations.
11 August 2000 — A Swedish armed forces HKP-10 Super Puma crashed into a cliffside in the Kebnekaise mountains during an alpine rescue mission. All three crewmen aboard died, the aircraft was totally destroyed. Since only abut 70% off the aircraft was recovered, the reason was unable to determine.
18 November 2003 - A Swedish armed forces HKP-10 Super Puma crashed during night time sea rescue exercises. Six out of the seven crew onboard died. SSRS Märta Collin, the boat conducting the exercise, rescued the lone survivor from the sea.
21 November 2006 — A Eurocopter AS332 L2 search and rescue helicopter ditched in the North Sea. The aircraft was equipped with two automatic inflatable life rafts, but both failed to inflate. The Dutch Safety Board afterwards issued a warning.
18 February 2009 - While on approach to the ETAP oil production platform located 132 nm east of Aberdeen at night, observers on the platform witnessed the helicopter appear to strike the surface of the sea, resulting in the loss of the aircraft.
1 April 2009 — A Bond Offshore Helicopters AS332L2 with 16 people on board crashed into the north sea 13 miles (21 km) off Crimond on the Aberdeenshire coast; there were no survivors. The AAIB's initial report found that the crash was caused by a "catastrophic failure" in the aircraft's main rotor gearbox epicyclic module.
27 December 2010 — A Hong Kong Government Flying Service (GFS) AS332L2 Super Puma made a controlled emergency landing in Shing Mun Reservoir while picking up water from the reservoir for hill fire fighting operation. Three crew members onboard had safely exited the helicopter which floating on water surface. It was caused by No. 2 Engine shut down automatically due to an overspeed signal on transition to forward flight.
11 November 2011 — XC-UHP AS332-L Super Puma of Mexico's General Coordination[1]Transport Unit crashed in the Amecameca region south of Mexico City. Mexico's Secretary of the Interior Fransisco Blake Mora died in this accident along with seven other crew and passengers.
28 March 2012 — A Venezuelan Air Force Super Puma crashed during anti-drug operations in the Venezuelan state of Apure, killing all seven crew members on board.
10 May 2012 - The crew of the helicopter carried out a controlled ditching following indications of a failure of the main gearbox (MGB) lubrication system and, subsequently, a warning indicating failure of the emergency lubrication system. (EC225)
22 October 2012 — A Super Puma performed an emergency landing immediately following a gearbox lubrication warning indicator. (EC225)
21 March 2013 — During a readiness exercise, a German Federal Police (Bundespolizei) Eurocopter EC115 collided with a Super Puma on the ground while landing in whiteout conditions in the Olympic Stadium in Berlin, Germany, destroying both aircraft, killing one of the pilots and injuring numerous bystanders. The whiteout was caused by snow on the ground being stirred up by the helicopter downdraft.
23 August 2013 — A Super Puma L2 helicopter G-WNSB experienced a (so far unexplained) loss of air speed on a low approach and ditched into the North Sea two miles west of Sumburgh Airport at about 18:20 BST. The aircraft experienced a hard impact and overturned shortly after hitting the water however its armed flotation system deployed and the vehicle stayed afloat. Four passengers were killed, while both crew and a further 12 passengers were rescued, most with injuries. To date, the AAIB stated it was not caused by mechanical failure.
Community content is available under
CC-BY-SA
unless otherwise noted.