Business jets, also known as corporate jets, are small aircraft. Their passenger capacity is usually limited to ten people, enough for a few passengers, their baggage, and a small crew. Their interiors are often luxurious, contrasting strongly with the cramped cabins of airliners. Refreshments would most likely be tailored to the clients, rather than being predetermined.
Most corporate jets have two or three engines, mounted towards the tail to reduce noise. Take, for example, this jet, a Gulfstream G550. The twin engines are mounted aft, whereas the engines of a airliner would have the engines in pods underneath the wings.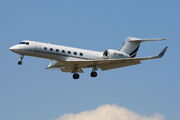 Other differences between business jets and regular airplanes include how they're boarded/exited. Usually, a stream of passengers proceeds down a Jetway (you know, those gray things that stick out of an airport terminal) to board the aircraft. With business jets, though, the plane is simply out on the tarmac, distanced from the airport and with no Jetway. The passengers walk up the step installed on the inside of the boarding door. In the picture of the G550, you can see this door, located just behind the cockpit and just before the cabin windows. The passengers descend through this same door on their way out.
Also, business jets are very expensive. Even big companies often can only get timeshares, where they pay a certain amount of money (thousands of dollars) to use the jet for a certain amount of time. Being able to own such a jet in full indicates great wealth. If the clients consume refereshments-- champagne, wine, French dishes, etc.-- that may cost money, too, while the average air commuter already has his food and drink included in the ticket price.
Community content is available under
CC-BY-SA
unless otherwise noted.