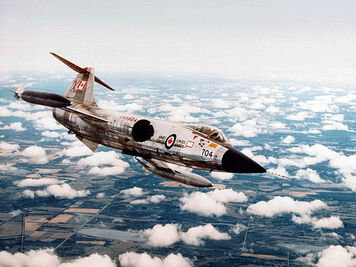 The Canadair CF-104 Starfighter is the Canadian variant of the F-104 Starfighter. It was first introduced in March 1962, and was used by Canada, Denmark, Norway, and Turkey. 200 were produced, the last one retiring from service in 1995 from the Turkish Air Force.
Out of the 200 built, some 110 were lost to accidents, earning the CF-104 the nickname of "Widowmaker" or "Lawn Dart" in the Royal Canadian Air Force[1] [2].
There are two variants for the CF-104: the basic CF-104, and the CF-104D, a two seat trainer.
Length: 54 FT 6 In
Wing Span: 21 FT 9 In
Maximum Speed: 1,146 MPH
Range: 1,630 Miles
Service Ceiling 50,000 FT
Community content is available under
CC-BY-SA
unless otherwise noted.