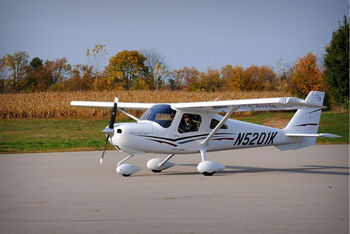 The Cessna 162 SkyCatcher is a side-by-side two-seat, high-wing, strut-braced, tricycle gear light-sport aircraft (LSA). Smaller than the Cessna 172, it is the latest aircraft in the Cessna general aviation product line, its intended market is flight training and personal use.
The SkyCatcher received its ASTM LSA approval in July 2009.
The Cessna 162 was originally supposed to sell for an even $100,000 but pricing goals were not met. The first aircraft sold for $109,000 and the price has since risen to $112,250. In november 2011, the price was raised to $149,000.
Crew: one pilot
Capacity: one passenger
Length: 22.8 ft (6.95 m)
Wingspan: 30.0 ft (9.14 m)
Height: 8.53 ft (2.53 m)
Wing area: 120 ft² (11.14 m²)
Empty weight: 830 lb (376.5 kg)
Useful load: 490 lb (222.3 kg)
Max takeoff weight: 1,320 lb (598.7 kg)
Maximum speed: 118 knots (218 km/h)
Cruise speed: 112 knots (207 km/h)
Range: 470 nm (870 km) at 6,000 ft (1830 m)
Service ceiling: 15,500 ft (4727 m)
Rate of climb: 890 ft/min (4.52 m/s)
Wing loading: 11.0 lb/ft² (55.0 kg/m²)
The Skycatcher has one Teledyne Continental O-200D flat four engine producing 100 horsepower.
Community content is available under
CC-BY-SA
unless otherwise noted.