Compañía Cubana de Aviación
(commercially known as Cubana) is the national airline of Cuba, it's main hub is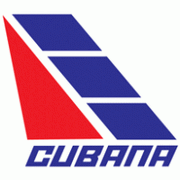 located at José Martí Internationa Airport at Havana.
Founded as Compania Nacional Cubana de Aviacion Curtiss on 8th October 1929, the company began operations with Curtiss Robins and Travel Air aircraft on 30th October 1930, flying between Havana and Santiago de Cuba, with stops at Santa Clara, Moron and Camaguey. Bought by Pan American Airways on 6th May 1932, the airline dropped the Curtiss name, and replaced the Curtiss Robins and Travel Airs with Ford Tri-motors. These were supplemented by Lockheed L-10 Electras from 29th July 1935.[1]
Accidents and Incidents
Edit
On October 6, 1976 two bombs exploded in a Douglas DC-8 while flying over the Caribbean Sea en route to Barbados killing all 77 people on board. The attack was planned by Cuban Terrorist Luis Posada Carriles.
On August 30, 1998 a Tupolev TU-154 failed to take off from Mariscal Sucre International Airport in Quito, Ecuador after an engine failure crashing on a soccer field and killing 70 people. 14 people survived.
Cubana is one of the very few airlines in America to include Russian jets in their fleet.
References
Edit
↑

World Aircraft Information Files Aviation Partwork. Midsummer Books Ltd. File 651 Sheet 1 (Airlines of the World:Cubana de Aviacion - State owned airline)
Community content is available under
CC-BY-SA
unless otherwise noted.