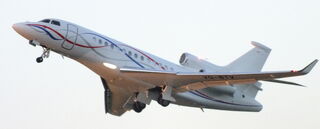 The Dassault Falcon 7X is a large-cabin, long range business jet manufactured by Dassault Aviation, the flagship offering of their business jet line. It was first presented to the public at the 2005 Paris Air Show.
The aircraft has over 200 orders to date. It has received its type certification from both the Federal Aviation Administration (FAA) and European Aviation Safety Agency (EASA) on 27 April 2007. The first 7X, MSN05, entered service on June 15, 2007; the hundredth was delivered in November 2010.
In 2001, the Falcon 7X, at approximately $35 million, was nearly $10 million cheaper than its nearest competitors in the long range, large cabin market segment, the Gulfstream G550 and Bombardier Global Express. Its 2007 cost was $41 million. As of 2008, the approximate unit cost of the 7X is $50 million (which was no longer less expensive than the Global Express, at $40M).
It is the first fully fly-by-wire business jet. It is also equipped with the same avionics suite, the Honeywell Primus Epic "Enhanced Avionics System" (EASy), that was used on the Falcon 900EX and later on the Falcon 2000EX.
The Falcon 7X is notable for its extensive use of computer-aided design, the manufacturer claiming it to be the "first aircraft to be designed entirely on a virtual platform", using Dassault Systemes' CATIA and PLM products.
It is also unusual in having an S-duct central engine, and is one of only two trijets currently in production, the other being the Dassault Falcon 900. It was also the first production Falcon jet to offer winglets.
In February 5, 2010, Dassault Falcon and BMW Group DesignworksUSA were awarded the prestigious "Good Design" award for 2009 by The Chicago Athenaeum and The European Centre for Architecture Art Design for their successful collaboration on the new Falcon 7X interior option.
Community content is available under
CC-BY-SA
unless otherwise noted.