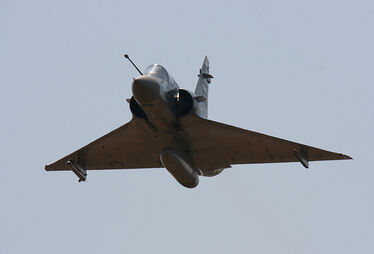 The Dassault Mirage 2000 is a French single engine, delta winged multirole fighter. It was designed in the 1970s as lightweight fighter to replace the Mirage III.
The Mirage 2000 evolved from other Mirage planes which were used from 1965 to 1975. Because of the US F-15 Eagle and F-14 Tomcat, Dassault developed a twin engine air superiority fighter, Designated Mirage 4000. But a twin engine fighter would be too expensive, so Dassault searched for an alternative. It had to be a single engine, delta winged fighter. The resulting Mirage 2000 was first flown on 10th March 1978.[1]

↑ Gunston, Bill. Illustrated Guide To Modern Fighters And Attack Aircraft. Salamander Books. 1980. ISBN 0 86101 055 8 Page 22
Community content is available under
CC-BY-SA
unless otherwise noted.