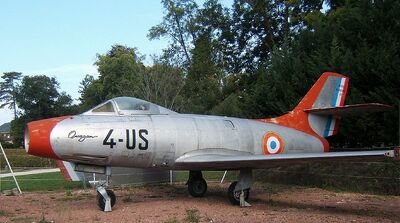 The Dassault MD.450 Ouragan (French for Hurricane), by Dassault Aviation was the first French made jet fighter. The first flight took place in the year 1949.
History and Development
[
]

The first prototype of the Ouragan was flown on 18th February 1949. This aircraft didn't have any armament, cabin pressurization or wingtip fuel tanks. Three prototypes and fourteen pre-service aircraft were built. After testing 50 aircraft, which like the prototypes and pre service aircraft were powered by a 5,000 lb st (2,267 kgp) Rolls Royce Nene 102, were completed to interim standards as MD.450As. These were followed by 300 MD/450Bs with the lighter Nene 104B, producing 5,070 lb st (2,300 kgp) and other modifications.[1] The first flight of a definitive aircraft was on 5th December 1951 and delivery to the Armée de l'air began in the year 1952. Three squadrons operated the Ouragan, until it was replaced by the MD 452 Mystère IV A. But the last Ouragan was retired six years later, after use as a trainer aircraft.
Other users
[
]
The Ouragan was exported to India as the "Toofani", where it was used during the War against Pakistan. The 71 Indian aircraft were MD.450Bs fitted with Hispano Mk V cannon and Nene 105As rated at 5,180 lb st (2,350 kgp), which were ordered on 25th July 1953. A further 33 examples, including 20 unused machines taken from storage, were passed to India in March 1957, with the type remaining in Indian service until 1967.[1]
The aircraft was also exported to Israel, which ordered a total of 71 aircraft, 24 of them were new and 51 were used by the Armée de l'Air before. It was used for ground-attack missions during the Suez Crisis and the Six-Day War.
In 1975 El Salvador received eighteen Israeli examples, which remained in service until the late 1980s.[2]
Specification
[
]
Measuring 35 ft 2.8 in (10.74 m) in length and 13 ft 7 in in height, the Ouragan had a 39 ft 3.6 in (11,98 m) wingspan. Empty equipped weight was 10,582 lb (4,800 kg), and normal loaded weight was 15,322 lb (6,950 kg). Max speed was 578 mph (930 km/h) at sea level and 503 mph (810 km/h) at 39.370 ft (12,000 m). Time to 9,840 ft (3,000 m) was 3.15 minutes, and range with tip tanks was 520 miles (836 km).[3] Armament consisted of four 20 mm Hispano autocannon with 125 rounds per gun, augmented by 16 Matra 105 mm air to ground rockets. [4]
References
[
]