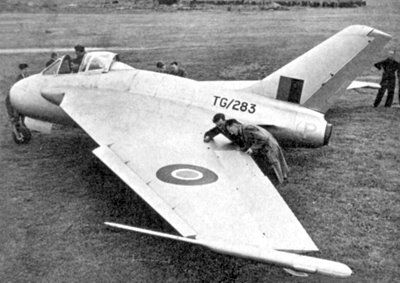 The de Havilland D.H.108 Swallow was an experimental aircraft by the British aircraft manufacturer de Havilland Aircraft Company. The aircraft was to be a tailless, swept wing aircraft, designed to evaluate the handling characteristics of swept wing aircraft at high and low speeds. The three built prototypes crashed with the time and their pilots died. After those terrible accidents the project was cancelled.
History
The D.H.108 design was a single seat test aircraft based on the fuselage and the engine design of the de Havilland Vampire. The swept wing design was included after studying German engineering documents. The D.H.108 was faster than any other jet fighter at this time.
The type was built to Air Ministry specification E.18/45, which called for an aircraft to investigate the characteristics of swept wings, as part of the development programmes for the DH.106 Comet and DH.110 Sea Vixen. The first prototype was a low speed test vehicle built from a standard Vampire fuselage, to which was attached a mid set wing swept at 43 degrees, and fitted with wingtip anti spin parachutes and fixed leading edge slats.[1]
The first flight was on 15th May 1945. In course of time many changes were made on the three prototypes.
The fatal crash of the third prototype killed Geoffrey de Havilland Junior on 27th September 1946.[1] Before the flight he reached a speed of Mach 0.9 with his aircraft. In 1948 the second prototype reached, during a problematic nose dive, supersonic speed, however the American F-86 Sabre did this in the same year as well. The same aircraft crashed some time later because of an oxygen fault, killing the pilot. Some years later the first prototype was lost with its pilot.
Specification
(These details apply to the second prototype, and come from the WAIF entry unless otherwise stated)[1]
Powerplant: One 3,300 lb st (14.68 kN) de Havilland Goblin DGn.3 Turbojet.
Max Speed: 640 mph (1,030 km/h) at optimum altitude.
Max Take off weight: 8,960 lb (4,064 kg)
Wingspan: 39 ft (11.89 m)
Length: 24 ft 6 in (7.47 m)
References