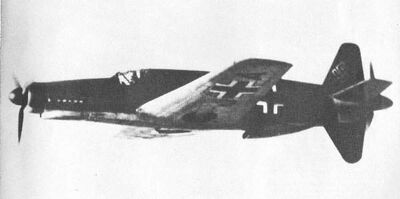 The Dornier Do 335 was a fighter produced by Germany during the end of World War II.
The final result of a push-pull design dating back to before World War II,[N 1] the Do 335 was a relatively large low wing monoplane with cruciform tail and nose-wheel undercarriage. 37 were built before the war ended. Today only one remains, located in the National Air & Space Museum. Both single seat and two seat trainer/night-fighter variants were built.
Following flight tests with the Goppingen Go 9 during 1940, The RLM placed a development contract with Dornier for a tandem engine intruder aircraft designated Do P.231. However, by the time design work was almost complete in 1942, the changing war situation led to replacement of the Do 231 with a fighter designated Do 335. The first prototype, powered by a pair of 1,800 hp DB-607 V-12 engines, made it's maiden flight from Dornier's Oberpfaffenhofen airfield during September 1943.[2]
The Do 335 was the first production aircraft to have an ejection system, but it proved to be flawed. During testing, two aircraft crashed, only to have the bodies found missing their arms. This was due to the firm grip being placed on the handles, which would first jettison the canopy before the seat.
Span: 47 ft 3 1/3 in (13.8 m)
Length: 45 ft 5 1/4 in (13.85 m)
Height: 16 ft 4 1/4 in (5 m)
Empty Weight: 16,314 lb (7,400 kg)
Normal Loaded: 21,186 lb (9,610 kg)
Maximum Speed: 474 mph (763 km/h) at 21,000 ft (6,400 m)
Cruising Speed: 426 mph (685 km/h) at 23,300 ft (7,100 m)
Landing Speed: 112 mph (180 km/h)
Service Ceiling: 37,400 ft (11,400 m)
Normal Range: 858 miles (1,380 km)[3]
Community content is available under
CC-BY-SA
unless otherwise noted.