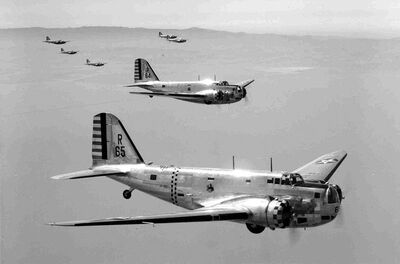 The Douglas B-18 Bolo was a twin engine, American bomber aircraft from the 1930s. The aircraft was based on the Douglas DC-2 and was used by the United States Army Air Corps and the Royal Canadian Air Force until the beginning of the 1940s.

In the year 1934 the United States Army Air Corps sought for a twin engine bomber, with twice the payload and twice the range of the Martin B-10. In the year 1935 a fly-off on Wright Patterson Air Base was made. Douglas used its DB-1 for the competition. It competed with the Model 299 by Boeing, which was later developed into the B-17 Flying Fortress; and with the Model 146 by Martin, which was an export version of the B-10.[1] Boeing had the best design, but because of a crash Boeing's prototype was terminated first. With a unit cost of $58,500, the DB-1 was cheaper than the B-17, which had a unit cost of $99,620, being really important at the time of the Great Depression. In January 1936, production of the B-18 was started.
The DB-1 was based on the Douglas DC-2 in most aspects, but with many modifications. The wingspan was 1.4 m greater. It had a deeper fuselage to make room for more bombs and the crew of six persons. The bomber was powered by two Wright R-1820-45 Cyclone 9-radial engines with a power of 694 kW each. In the first contract 133 B-18 (including DB-1) with Wright-engines were ordered. The last aircraft of the series was called DB-2 and was equipped with a power-operated nose turret. Additional contracts were made in 1937 in which 177 B-18A and in 1938 40 B-18A were ordered. It had an additional bombardier's position further forward over the nose-gunner's station and was equipped with more powerful Wright R-1820-53-radial engines with a power of 746 kW each. In 1940 most of the bomber squadrons were equipped with B-18 and B-18A bombers. Some of those bombers were destroyed on 7th December 1941 on the Attack on Pearl Harbour.
In 1942 the B-18s were replaced by the B-17 bombers. 122 B-18A were modified into anti-submarine aircraft. For this role they were equipped with a Magnetometer. Those aircraft were called B-18B and were used in the Caribbean Sea for anti-submarine warfare. Two aircraft were sent in 1942 to the Brazilian Air Force. The Royal Canadian Air Force bought 20 B-18A, which were called Douglas Digby Mark I. All in all the Bolos and Digbys were able to sink four submarines.
B-18 - Standard early bomber version with 930 hp (694 kW) R-1820-45 Cyclone 9 raidial engines. 133 aircraft.
B-18A - improved version with 1,000 hp (746 kW) R-1820-53 raidial engines and extended bomb aimer's position over the nose gunner's station. 217 aircraft.

Digby Mk I - 20 B-18As passed to the Royal Canadian Air Force for maritime patrol.

B-18AM - 18 B-18As modified for training by removal of their bombing equipment.
B-18B - New designation applied to B-18As fitted with search radar and Magnetic Anomaly Detection (MAD) equipment for anti submarine patrol in the Caribbean. 122 aircraft
B-18C - Designation for 2 aircraft modified for anti-submarine patrol duties.
B-18M - 22 B-18s that were modified to the same standard as the B-18AMs
B-22 - Projected B-18A development with 1,600 hp (1,193 kW) R-2600-3 radial engines.
C-58 - Two aircraft converted for transport duties.[2]
Community content is available under
CC-BY-SA
unless otherwise noted.