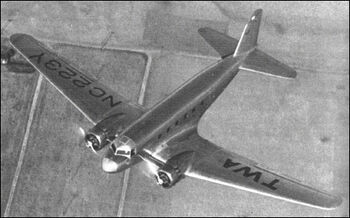 The Douglas DC-1 was the first model of the famous United States DC (Douglas Commercial) commercial transport aircraft series. Although only one example of the DC-1 was produced, the design was the basis for the DC-2 and DC-3, the starting point of one of the most successful aircraft designs in history.
Development of the DC-1 can be traced back to the 1931 crash of TWA Flight 599, due to the failure of a wooden strut, which in turn was caused by water which had over time seeped between the layers of the wood laminate and dissolved the glue holding the layers together.
Following the accident, the Civil Aeronautics Board ruled passenger aircraft could no longer contain wings or structural members (such as struts and spars) made of wood. Boeing developed an answer, the 247, but their production capacity was limited and they could only supply their primary contract, United Airlines. TWA wanted a similar aircraft, and on 2nd August 1932[N 1] asked four manufacturers to bid for construction of a three-engine, 12-seat aircraft to meet the specifications stipulated by the CAB:
All metal wings and structural members
Retractable landing gear
Capable of remaining in flight, even if one engine failed.
Donald Douglas was reluctant to participate in the invitation from TWA. He doubted there would be a market for 100 aircraft, the number of sales necessary to cover development costs. Nevertheless, within a fortnight of the specification's release,[1] he submitted a design consisting of an all-metal, low-wing, twin-engine aircraft seating 12 passengers, a crew of two and a flight attendant.
After convincing Charles Lindbergh TWA's technical adviser, that the requirement could be safely met by a twin engined aircraft, a contract was signed on 20th September, with the resulting aircraft being rolled out on 22nd June 1933.[1] The aircraft exceeded the specifications of TWA even with two engines. It was insulated against noise, heated, and fully capable of both flying and performing a controlled takeoff or landing on one engine.
Only one aircraft was produced, the prototype. It made its maiden flight on July 1, 1933 and was given the model name DC-1. During a half year of testing, it performed more than 200 test flights and demonstrated its superiority versus the most used airliners at that time, the Ford and Fokker Trimotors. It was flown across the United States, making the journey in a record time of 13 hours, 5 minutes.
TWA accepted the model with a few modifications (mainly increasing seating to 14 passengers and adding more powerful engines) and ordered 20 aircraft. The production model was called the Douglas DC-2.
The DC-1 was sold to Lord Forbes in the United Kingdom in 1938, who operated it for a few months before selling it in France. It was then sold to Líneas Aéreas Postales Españolas (L.A.P.E.) in Spain in 1938. Later operated by Iberia Airlines with the name Negron it crashed at Malaga, Spain in December 1940 and was damaged beyond repair.
Related development
Aircraft of comparable role, configuration and era
Related lists
Community content is available under
CC-BY-SA
unless otherwise noted.