Jurassic World: Dominion Dominates Fandom Wikis - The Loop
Play Sound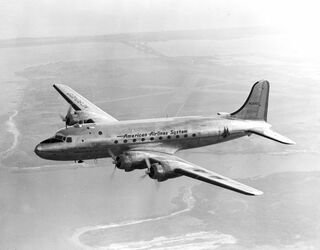 The DC-4 is a four-engined propeller-driven airliner developed by the United States company Douglas Aircraft Company. It served during the Second World War in a military role, and after the war for civilian airlines.
Design and development
[
]
The designation DC-4 was used by Douglas Aircraft Company when developing the DC-4E as a large, four-engined type to complement its very successful DC-3, already in widespread operation. The DC-4 was intended to fulfill United Airlines' requirement for a long-range passenger airliner. The DC-4E (E for experimental) emerged as a 52-passenger airliner with a fuselage of unusually wide cross-section for its day with two decks and a triple fin tail unit, similar to that later used by Lockheed on its Constellation. The triple fin and double deck were abandoned on subsequent models, and the more common single fin was utilised.
The DC-4E first flew on June 7, 1938, piloted by Benny Howard and was used by United Air Lines for test flights. The type proved to be ahead of its time: It was complicated to maintain and uneconomical to operate. The sponsoring airlines, Eastern and United, decided to ask instead for a smaller and simpler derivative but before the definitive DC-4 could enter service the outbreak of the Second World War meant production was channeled to the United States Army Air Forces and the type was given the military designation C-54 Skymaster. Additional versions used by the US Navy were designated R5D. The first aircraft, a C-54, flew from Clover Field in Santa Monica, California on February 14, 1942.
Very few DC-4s remain in service today. The last three passenger-carrying DC-4s believed to be running worldwide all operate out of historic Rand Airport in Germiston, near Johannesburg in South Africa. Two fly old South African Airways (SAA) colors, they are ZS-AUB "Outeniqua" and ZS-BMH "Lebombo" and are owned by the South African Airways Museum Society [1] and operated by Skyclass Aviation [2] who specialise in Classic Airliner charters to exotic destinations in Africa. The other Skymaster is ZS-AUA "Tafelberg" which is also operated by Skyclass Aviation but is leased from the Dutch Dakota Association.
Production
[
]
The DC-4 had a notable innovation in that its nosewheel landing gear allowed it to incorporate a fuselage of constant cross-section for most of its length. This lent itself to easy stretching into the later DC-6 and DC-7. A total of 1,163 C-54/R5Ds were built for the United States military services between 1942 and January 1946.
Douglas continued to develop the type during the war in preparation for a return to airline services when peace returned. However, the type's sales prospects were hit by the offloading of 500 wartime C-54s and R5Ds onto the civil market. DC-4s were a favorite of "startup" airlines (AKA non-scheduled or supplemental carriers) such as Great Lakes Airlines, North American Airlines, Universal Airlines, Transocean Airlines, etc. In the 1950s, Transocean Airlines (Oakland, California) was the largest operator of the DC-4.
Douglas produced just 79 new-build DC-4s before production ceased on August 9, 1947. Pressurization was available as an option, but all civilian DC-4s (and C-54s) were built unpressurized.
The DC-4/C-54 proved a popular and reliable type and several remain in service today, particularly in the USA, where it proved popular as a charter/freight plane. An example is Brooks Fuel of Fairbanks, Alaska, with several DC-4/C-54s still operational in 2007 on cargo/tanker flights to remote airstrips. The DC-4 is still in operation in the Canadian North with Buffalo Airways.
Variants
[
]
DC-4-1009 Postwar passenger model. This civil model could carry up to 86 passengers.
DC-4-1037 Postwar freight model.
Derivatives
[
]
DC4M North Star

- 71 DC-4s were built by

Canadair

under the designations North Star, DC-4M, C-4, and C-5. With the exception of the single C-5, these were all powered by

Rolls-Royce Merlin

engines and 51 of them were pressurized. The Royal Canadian Air Force,

Trans-Canada Air Lines

,

Canadian Pacific Air Lines

and

BOAC

operated these aircraft, the latter under the type name "Argonaut".
Aviation Traders Carvair

- Starting in 1959, 21 DC-4s and C-54s found new life as ATL-98 Carvairs. The Carvair was designed to carry 22 passengers and 5 automobiles. This was accomplished by extending the fuselage, moving the cockpit above the fuselage, adding a side-opening nose, and enlarging the

vertical stabilizer

to offset the larger forward fuselage. These planes served as flying ferries well into the seventies, and two are still airworthy as of March 2008 - one each in

Texas

and South Africa.[verification needed].
See also
[
]
Related development
C-54 Skymaster

Canadair North Star

Aviation Traders Carvair
Aircraft of comparable role, configuration and era
Related lists
List of airliners

List of aircraft
References
[
]
Notes
[
]
Bibliography
[
]
Template:Refbegin
Francillon, René (1979). McDonnell Douglas Aircraft Since 1920: Volume I. London: Putnam. ISBN 0-87021-428-4.
Pearcy, Arthur (1995). Douglas Propliners: DC-1–DC-7. Shrewsbury: Airlife Publishing. ISBN 1-85310-261-X.
Yenne, Bill (1985). McDonnell Douglas: A Tale of Two Giants. Greenwich, Conn.: Bison Books. ISBN 0-517-44287-6.
Template:Refend
External links
[
]
Template:Commons
Template:Douglas airliners Template:Japanese Navy Transport Aircraft Template:Aviation lists