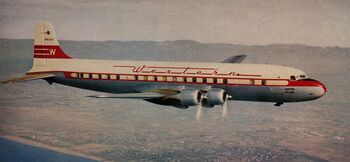 The Douglas DC-6 is a piston-powered airliner and transport aircraft built by the Douglas Aircraft Company from 1946 to 1959. Originally intended as a military transport near the end of World War II, it was reworked after the war to compete with the Lockheed Constellation in the long-range transport market. More than 700 were built, and many still fly today in cargo, military, and wildfire control roles.
The DC-6 was known as the C-118 Liftmaster in United States Air Force service, and as the R6D in United States Navy service.
Design and development
[
]
The United States Army Air Forces commissioned the DC-6 project as the XC-112 in 1944. The Air Force wanted an expanded, pressurized version of the popular C-54 Skymaster transport with improved engines. By the time the XC-112 flew, the war was over, and the USAAF had rescinded its requirement.
Douglas converted its prototype into a civil transport (redesignated YC-112A, having significant differences from subsequent production DC-6 aircraft) and delivered the first production DC-6 in March 1947. However, a series of mysterious in-flight fires (including the fatal crash of United Airlines Flight 608) grounded the DC-6 fleet later that year. The cause was found to be a fuel vent located adjacent to the cabin cooling turbine intake. All DC-6s in service were modified to correct the problem, and the fleet was flying again after just four months on the ground.
Operational history
[
]
Pan Am used DC-6B aircraft to inaugurate its first trans-Atlantic tourist class flights, starting in 1952.
Douglas designed four basic variants of the DC-6: the "basic DC-6," and the longer fuselage, higher-gross-weight, longer range versions—the "DC-6A" with large cargo doors forward and aft of the wing on the port (left hand side) with a cargo floor, the "DC-6B" designed for passenger work,had passengers doors only and a lighter floor and the "DC-6C" a "convertible" aircraft built with the 2 cargo doors, but fitted with removable passenger seats. The military version, essentially similar to the DC-6A, was the USAF C-118 Liftmaster, and the USN R6D. The DC-6B, powered by Pratt & Whitney R-2800-CB-17 engines with Hamilton Standard 43E60 constant speed reversing propellers, was regarded as the ultimate piston-engine airliner from the standpoint of ruggedness, reliability, economical operation and handling qualities.[verification needed]
The USAF and USN renewed their interest in the DC-6 during the Korean War, and ordered a total of 167 C-118/R6D aircraft, some of which later found their way into civilian service. Harry Truman's first presidential aircraft was an Air Force VC-118 called The Independence.
Total production of the DC-6 Series was 702 including military versions.
In the 1960s, two DC-6s were used as transmitter platforms for educational television, based at Purdue University, in a program called MPATI (Midwest Program for Airborne Television Instruction).[1]
Many older DC-6 aircraft were replaced in airline passenger service by the Douglas DC-7, but the simpler, more economic engines in the DC-6 has meant that this type has out-lived the more sophisticated DC-7. DC-6/7s surviving into the Jet Age were replaced in front line service by Boeing 707 and Douglas DC-8 aircraft.
2006 marked the 60th anniversary since the introduction of the DC-6.
Variants
[
]
XC-112

United States military designation of an improved version of the C-54 (DC-4); became the prototype DC-6. Eventually designated YC-112A, pressurized, P&W R-2800-83AM3 engines

DC-6

Main production variant

DC-6A

Fitted with cargo door.

DC-6B

Passenger only variant.

DC-6C

Convertible cargo/passenger variant.

VC-118

One DC-6 bought as a presidential transport with special 25 seat interior and 12 beds.

C-118A

Designation of DC-6As for the United States Air Force, 101 built.

VC-118A

C-118As converted as staff transports.

C-118B

R6D-1s re-designated.

VC-118B

R6D-1Zs re-designated.

R6D-1

United States Navy designation for the DC-6A, 65 built.

R6D-1Z

Four R6D-1s converted as staff transports.
Operators
[
]
Main article:

Douglas DC-6 operators

Current operators of the DC-6

Today, most DC-6s in commercial use are based in Alaska. Several other DC-6s are still in operation for small carriers in South America.
About 100 DC-6s still fly (or are potentially capable of flight).
In 2002, 49 were fully active.
One DC-6A, G-APSA, is in use by

Air Atlantique

, Coventry, UK. They also own a DC-6B, G-SIXC.[2]
One is in use by

Red Bull

in Salzburg, Austria.
One DC-6 is in use by

Namibia Commercial Aviation

.
An unknown number are in use as

freighters

or

waterbombers

in Canada and the western US.
Civil operators
[
]
Template:NZL

Template:UK

Air Atlantique

, a former cargo carrier based in Coventry, England.

Template:USA

Air Cargo Express

Everts Air Fuel

Northern Air Cargo
Military operators
[
]
Template:ARG

Template:BEL

Template:BOL

Template:BRA

Template:CHI

Template:DEN

Template:ROC

Template:COL

Template:ECU

Template:ESA

Template:FRA

Template:GER

Template:GUA

Template:HON

Template:ITA

Template:KOR

Template:MEX

Template:NZL

Template:PAR

Template:PER

Template:POR

Template:ROC

Template:USA

Template:Flag

Template:YUG

Template:ZAM
Notable incidents and accidents
[
]
On 12 February 1955, a

Sabena

DC-6 crashed on mount Terminillo, near Rieti, Italy; 29 people died, including 1953 Miss Italia winner Marcella Mariani.
On 1 November 1955, a time bomb exploded aboard

United Airlines Flight 629

, a DC-6, killing 44 people above Longmont, Colorado.
Survivors
[
]
Several DC-6s are preserved in museums. The most well-known is President Harry S. Truman's Independence, which is preserved at the National Museum of the United States Air Force, Wright-Patterson Air Force Base in Ohio.
Specifications (DC-6B)
[
]
See also
[
]
Related development
Aircraft of comparable role, configuration and era
Related lists
List of military aircraft of the United States

List of military aircraft of the United States (naval)
References
[
]
Notes
[
]
Bibliography
[
]
Template:Refbegin
Pearcy, Arthur. Douglas Propliners: DC-1–DC-7. Shrewsbury, UK: Airlife Publishing, 1995. ISBN 1-85310-261-X.
Whittle, John A. The Douglas DC-6 and DC-7 Series. Tonbridge, Kent, UK: Air Britain (Historians) Ltd., 1971. No ISBN.
Yenne, Bill. McDonnell Douglas: A Tale of Two Giants. Greenwich, Connecticut: Bison Books, 1985. ISBN 0-517-44287-6.
Template:Refend
External links
[
]
Template:Commons
Template:Douglas airliners Template:Douglas aircraft Template:USAF transports Template:USN transports Template:Aviation lists