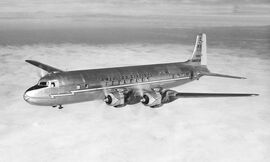 The Douglas DC-7 was an American transport aircraft built by the Douglas Aircraft Company from 1953 to 1958. It was the last major piston engine powered transport made by Douglas, coming just a few years before the advent of jet aircraft such as the Boeing 707 and Douglas DC-8. 348 were produced: about 40 are still in service.
Pan American World Airways originally requested the DC-7 in 1945, as a civilian version of the C-74 Globemaster military transport. It cancelled its order shortly afterward.
American Airlines revived the designation when it requested an extended-range DC-6 for its transcontinental services. At the time, the Lockheed Constellation was the only aircraft capable of making a non-stop coast-to-coast flight in both directions. Douglas was reluctant to build the aircraft until AA president C. R. Smith placed a firm order for twenty-five at a price of $40 million, covering Douglas's development costs.
The prototype flew in May 1953, and American received its first DC-7 in November, inaugurating the first non-stop coast-to-coast service in the country (taking 8 hours) and forcing rival TWA to offer a similar service with its Super Constellations. Both aircraft, however, suffered from unreliable engines, and many transcontinental flights had to be diverted because of in-flight engine failures.
The original DC-7 was followed by another variant the DC-7B, which was identical except for increased fuel capacity in extended engine nacelles, which extended the flight range.
The early DC-7s were only sold to U.S. carriers. European carriers could not take advantage of the small range increase in the early DC-7, so Douglas released an extended-range variant, the DC-7C (Seven Seas) in 1956. A 10 ft (3.05 m) wing-root insert added fuel capacity, reduced induced drag, and made the cabin quieter by moving the engines further outboard. The fuselage, which had been extended over the DC-6B's by a 40in (1.02 m) plug behind the wing for the DC-7 and -7B, was lengthened by a similar plug ahead of the wing to give the DC-7C a total length of 112 ft 3 in (34.21 m). Pan Am used DC-7C aircraft to inaugurate the first non-stop New York-London service, forcing BOAC to buy the aircraft rather than wait on the delivery of the Bristol Britannia. The DC-7C found its way into several other overseas airlines' fleets, including SAS, which used them for cross-polar service to North America and Asia. However, -7C sales were cut short by the arrival of the Boeing 707 and DC-8 a few years later, when they took over on the coast-to-coast services.
Starting in 1959, Douglas began converting DC-7A and DC-7C aircraft into DC-7F freighters, which extended the life of the aircraft past its viability as a passenger transport.
Main article: Douglas DC-7 operators
Historical operators of the DC-7 include Aeromexico, Alitalia, American Airlines, BOAC, Braniff Airways, Caledonian Airways, Delta Air Lines, Eastern Air Lines, Emirates Airline, Japan Airlines, KLM, National Airlines, Northwest Orient, Panair do Brasil, Pan American World Airways, Sabena, SAS, South African Airways,Swissair, THY, and United Airlines.
In 2007, 73 DC-7s remained on the U.S. civil aviation registry,[1] used mainly for cargo and as airtankers. Due to its engine problems, the DC-7 has not had the same longevity as the DC-6, which is still used by a number of commercial operators.[verification needed]
Colombia
France
Mexico
Rhodesia
Related development
Aircraft of comparable role, configuration and era
Related lists
Community content is available under
CC-BY-SA
unless otherwise noted.