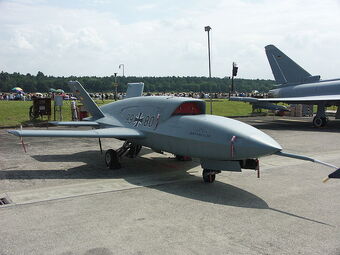 The EADS Barracuda, by Cassidian Air Systems ( division of EADS ), is a Spanish-German technology demonstrator for an Unmanned Aerial Vehicle (UAV).
History
[
]
The goal of the development of the Barracuda is to get experience with Unmanned Aircraft. Alongside with reconnaissance and observation, the Barracuda should be also able to carry armament. At first it was planned to replace the reconnaissance Tornados of the Luftwaffe at some grade and in 2015 it should be able to perform combat missions.
The successful First flight was at the Spanish Air Port San Javier on 2nd April 2006. The First flight was about 20 minutes long and was flown completely autonomous.
Development
[
]
The German-Spain aircraft is developed by Cassidian Air Systems in Ottobrunn and Manching ( Germany ), the German Aerospace Center developed the Barracuda as well. Large parts of it are made of Carbon-fiber-reinforced polymer.
On the second test flight on 23rd September 2006 the aircraft crashed into the ocean near San Javier Airport.
In the year 2008 the program was restarted and a second Barracuda was built, it should be equipped with electr-optical sensors and it should demonstrate Network-Centric Warfare.
In July 2009 and in summer 2010 it absolved successful test flights at the Canadian Air Base Goose Bay.
Design
[
]
The Barracuda has a wingspan of 7.22 m and a length of 8.25 m with a weigh of three tons. It´s engine is made by Pratt & Whitney Canada and it produces a thrust of 14 kN. Under the fuselage it is being room for additional sensors left.
The control surfaces are controlled by a fly-by-wire system, but the landing gear is controlled hydraulical.