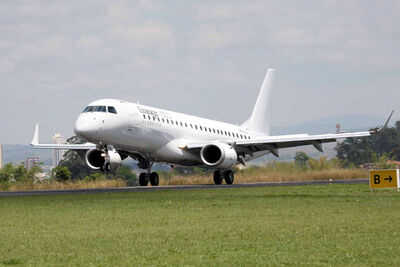 The
Embraer Lineage 1000
is an "ultra-large" business jet developed from the
Embraer 190
airliner. It is one of the largest business jets available, and costs over $49 million per unit.
The Lineage 1000 was developed from Embraer's successful 190 regional airliner, and was announced in May 2006 at the European Business Aviation Convention & Exhibition in Switzerland.[1] It has additional fuel tanks in its lower cargo hold which boost its range considerably, and it has five separate interior sections that can contain a variety of rooms, such as bedrooms or a kitchen. The Lineage first flew on 26 October 2007, and received certification from its native country of Brazil and from Europe in late 2008. The FAA certified it shortly thereafter, in January 2009. As of June 2013, 13 have been produced, most of which are owned by Middle Eastern millionaires and luxury charter airlines. However, a few are operated in Europe, India, and Mexico. 
Specifications
Edit
Powerplant: Two General Electric CF34-10E turbofan engines
Top speed: 553 mph (890 km/h)
Range: 5,179 miles (8,334 km)
Ceiling: 40,997 feet (12,496 meters)
Flight Crew: 2 
Capacity: 19 passengers
Empty weight: 
Length: 118 ft 11 in (36.24 m)
Height: 33 ft 9 in (10.28 m)
Wingspan: 94 ft 3 in (28.72 m)
Number built: 13 (as of June 2013)
References
Edit
Community content is available under
CC-BY-SA
unless otherwise noted.