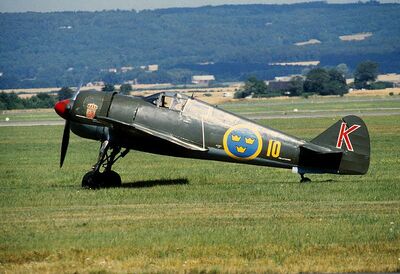 The FFVS J 22 was a single engine Swedish fighter aircraft, that was used during World War II.
History and Development
[
]
At the beginning of World War II, the Swedish Air Force (Flygvapnet) wanted to replace its obsolete Gloster Gladiator biplane fleet with a new and modern fighter. So Sweden ordered 120 Seversky P-35 und 144 Vultee P-66 Vanguard fighters from the USA. But unfortunately the United States declared an embargo on 18th June 1940 against exporting weapons.
Hence the Swedish Air Force searched for alternatives: The Finnish VL Myrsky and the Soviet made Polikarpov I-16 weren't capable enough; buying the Japanese Mitsubishi A6M Zero was not possible and the Fiat CR.42 Falco and the Reggiane Re.2000 were only interim solutions. The Swedish company Saab had enough work with development of the Saab 17 and Saab 18.
Thus a new company was founded to develop the planned fighter, called Kungliga Flygförvaltningens Flygverkstad i Stockholm ("Royal Air Administration Aircraft Factory in Stockholm,"FFVS). The final aircraft was a low wing aircraft, powered by a license built Pratt & Whitney R-1830 Twin Wasp engine.
D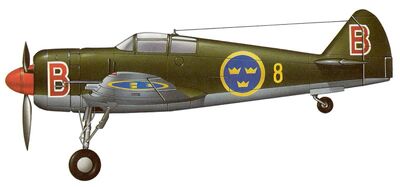 esigned by Bo Lunberg, the J 22 made it's first flight on 21st September 1942, exactly six months after a batch of 60 examples had been ordered 'off the drawing board', with production examples being delivered from 23rd November 1943.[1] Until April 1946 about 198 aircraft had been built. During its service time, which ended in the year 1952, the aircraft showed great overall performance, however with bad pilot visibility.
Description
[
]
Wings
[
]
Located in the low/mid position, these had constant taper and almost square tips. Internal structure was stainless steel, with plywood skin. Inner section of trailing edge featured camber changing flaps. Outer trailing edge section featured spot welded steel framed ailerons with fabric covering.[2]
Fuselage/tail unit
[
]
Fuselage consisted of oval section steel tube structure covered with birch plywood, with stainless steel framework tail section. Tailplane and fin covered with plywood. Elevators and rudder covered with fabric.[2]
Landing gear
[
]
Rearward retracting tail-wheel type, with main unit shock absorber legs hinged to lower fuselage members.[2]
Armament
[
]
There were two different armament fittings. Some aircraft had two 7.9 mm M/22F machine guns and two 13.2 mm M/39A machine guns, while others had four M/39As.[1]
Specification
[
]
References
[
]
↑ 1.0 1.1 Green, William and Gordon Swanborough. The Complete Book of Fighters. Salamander Books. 2001. ISBN 0 84065 269 1 Page 204
↑ 2.0 2.1 2.2 Gunston, Bill (Forward). Jane's Fighting Aircraft of World War II. Tiger Books. 1989. ISBN 1-85501-996-5. (Reprint of Jane's All The World's Aircraft 1945/1946. Bridgeman, Leonard (Editor). 1946). Page 200