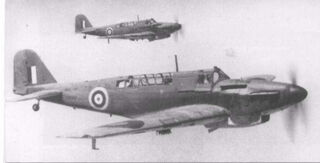 The Fairey Fulmar was a British carrier-borne fighter aircraft that served with the Fleet Air Arm (FAA) during the Second World War. A total of 600 were built by Fairey Aviation at its Stockport factory between January 1940 and December 1942. The Fulmar's design was based on that of the earlier Fairey P.4/34 that was in turn developed in 1936 as a replacement for the Fairey Battle light bomber. Although its performance (like that of its Battle antecedent) was lacking, the Fulmar was a reliable, sturdy aircraft with long range and an effective eight machine gun armament.
Design and development
[
]
The Fairey P.4/34 was built to Specification P.4/34 as a light bomber capable of being used as a dive bomber, in competition with the Hawker Henley and an unbuilt Gloster design. Despite its high speed of 284 mph, it lost out to the Henley (which was eventually ordered as a target tug).
The Fulmar, a navalised version of the P.4/34 was submitted to meet Specification O.8/38 for a two-crew fleet defence fighter. As it was not expected to encounter fighter opposition, high performance or maneuverability was not considered important, but long range and heavy armament were. The provision of a navigator/wireless operator was considered essential for the long, over-ocean flights that would be required.
Looking much like its sister, the Battle, the Fulmar prototype was aerodynamically cleaner and featured a folding wing that was 16 in (41 cm) shorter than its bomber lookalike. The prototype P.4/34 serial number K5099 first flew on 13 January 1937 at Fairey Aviation's Great

West Aerodrome (now covered by London Heathrow Airport), with Fairey test pilot Chris Staniland at the controls. After the first flight tests, the tail was revised, being raised 8 in (20 cm).
The first prototype Fulmar, acting as a "flying mock-up", was powered by a 1,080 hp (810 kW) Rolls Royce Merlin III engine. With this engine, performance was poor, the prototype only reaching 230 mph (370 km/h). With the Merlin VIII engine – a variant unique to the Fulmar and with supercharging optimised for low-level flight – and aerodynamic improvements, speed was improved to 265 mph (426 km/h) at 7500 ft (2286m), which, owing to the desperate need for modern fighters, was considered adequate. As a simple derivative of an existing prototype, the Fulmar promised to be available quickly and an initial order for 127 production aircraft was placed in mid-1938 and the first example flew from Fairey's facility at RAF Ringway near Manchester on 4 January 1940 and the last of 600 Fulmars was delivered from Ringway on 11 December 1942.
Fulmar Mk II production began in January 1941,[10] with the first Mk II reaching an operational squadron in March 1941. This mark introduced the more powerful Merlin XXX engine while the airframe was also engineered with several enhancements including provision for a 60 gallon (273 litre) centre-line drop tank, and provision to carry a 250 lb (114 kg) or 500 lb (227 kg) bomb in lieu of the drop tank. Testing ofthe Fulmar II, at Boscombe Down, in June 1942 showed that the Fulmar could safely drop a 500 lb bomb during 60 degree dives at up to 310 knots. Boscombe Down testing in October 1941 showed that the 60 gallon drop tank extended range to 1,100 miles.
N1854, the first production Fulmar, was later modified to Mk II standard and then "civilianised" as Fairey's hack, G-AIBE. In June 1959, it reverted to service markings and was seen at Farnborough at the SBAC show on 8 September 1962; its last flight was three months later on 18 December 1962. It is now in the FAA Museum, Yeovilton.
During testing, Fulmars were launched from catapults on merchant ships, a convoy defensive plan that was being evaluated at the time.