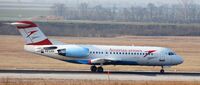 Fokker 70 is a medium sized regional turbofan jet designed and built by Dutch aircraft manufacturer Fokker. It's first flight occurred on 4 April, 1993. 48 airframes were build (47 + 1 prototype). The production ran from 1992-1997. A last Fokker build aircraft. A shortened version of Fokker 100. Still in service, particularly in Australia.
Many airlines required an airliner larger than short haul regional airliners like the Fokker 50 and ATR 42 but smaller than medium-range jetliners like the MD-80 and Boeing 737. However, until the Fokker 70, such a plane did not exist.
Fokker developed the Fokker 100 by cutting sections of the Fokker 100's fuselage, shortening the plane by about 15 feet but keeping its wings and tail.
Current operators
Edit
As of April 2019, 38 Fokker 70 aircraft are in service with the following operators.[1]
Air Niugini
Alliance Airlines
Fly Allways
Insel Air
Jetways
Government of Kenya
Myanmar Air Force
SKA
Transnusa Aviation Mandiri
Tus Airways
Tyrolean
Vietnam Airlines
Wayra Peru
Specifications
Edit
References
Edit
↑ Focker 70 Fleet List. Retrieved April 5, 2019.
↑ 2.0 2.1 2.2 2.3 2.4 2.5 2.6 2.7 airliners.net. [1]Fokker 70 technical data & specifications. Retrieved April 5, 2019.
Community content is available under
CC-BY-SA
unless otherwise noted.