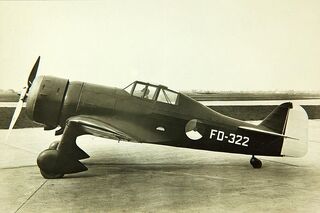 The Fokker D.XXI fighter was designed in 1935 for use by the Royal Netherlands East Indies Army Air Force (Militaire Luchtvaart van het Koninklijk Nederlands-Indisch Leger, ML-KNIL) . As such, it was designed as a cheap and small, but rugged aircraft, which had respectable performance for its time.
Design and development
[
]
The Fokker D.XXI was a low-wing monoplane with a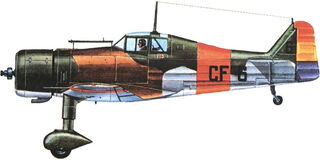 fixed spatted undercarriage. Following standard Fokker design practice of the period, it had a steel tube fuselage covered in large part by fabric, with wooden cantilever wings. Power was provided by a Bristol Mercury radial driving a three-blade two-pitch propeller. When it entered service in 1938 it was a significant leap forward for the Dutch Army Aviation Group, whose fighter force had until that time consisted of aging biplanes with open cockpits. The new Fokker proved to be an extremely sturdy aircraft capable of attaining a speed of 700 km/h in a dive.