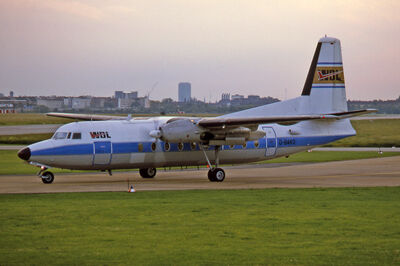 The Fokker F27 Friendship is a Dutch twin engine turboprop airliner that was manufactured by Fokker. Divitior mihi et ab hostibus opprimerentur sis 
Design work on the F27 began in the early 1950s with the intention of creating a replacement for the Douglas DC-3. The aircraft had a high-wing twin-engine configuration and a pressurized cabin with enough room for 28 people. Its first prototype made its maiden flight on 24 November 1955 under the registration PH-NIV. The second prototype corrected some handling issues, used more powerful engines, and had room for four more passengers. This prototype was the basis of the first production variant, the F27-100.
The first airline to operate the Friendship was Aer Lingus, who received their first example in 1958. At the time of this introduction, the F27 costed about £239,000 per unit. Since then, it has been adopted by many airlines around the world as both a passenger and cargo aircraft. It has also been used by a number of militaries for transport and maritime reconnaissance. The F27 was licensed built in the United States by Fairchild, who also developed a stretched version called the FH-227. Production of the Friendship ceased in 1987 with 586 constructed, many of which are still in use. 
Powerplant: Two Rolls-Royce Dart Mk.532-7 turboprop engines
Top speed: 509 km/h (316 mph)
Range: 2,600 kilometers (1,616 miles)
Ceiling: 8,992 meters (29,500 feet)
Crew: 2-3
Capacity: 56 passengers
Empty weight: 11,204 kg (24,701 lbs)
Length: 25.06 m (82 ft 3 in)
Height: 8.72 m (28 ft 7 in)
Wingspan: 29 m (95 ft 2 in)
Community content is available under
CC-BY-SA
unless otherwise noted.