The Folland Gnat was a small, swept-wing British subsonic jet trainer and light fighter aircraft developed by Folland Aircraft for the Royal Air Force, and flown extensively by the Indian Air Force. The Gnat was designed by W.E.W. Petter as a development of the private venture Folland Midge, and first flew in 1955. Its design allowed its construction without specialized tools by countries not highly industrialized. Although never used as a fighter by the Royal Air Force (RAF), the Gnat T.1 trainer variant was widely used. The Gnat became well known as the aircraft of the RAF's Red Arrows aerobatic team.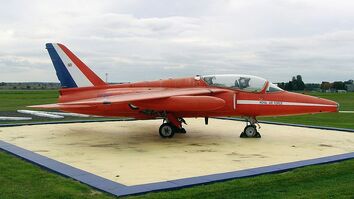 The Gnat was exported to Finland, Yugoslavia and India. The Indian Air Force became the largest operator and eventually manufactured the aircraft under licence. India then developed the HAL Ajeet, a modified and improved variant.
Specifications (Gnat F.1)
General characteristics
Crew: 1
Length: 28 ft 8 in (8.74 m)
Wingspan: 22 ft 1 in (6.73 m)
Height: 8 ft 1 in (2.46 m)
Wing area: 136.6 ft² (12.69 m²)
Empty Weight: 4,800 lb (2,175 kg)
Max. Take-off Weight : 9,040 lb (4,100 kg)
Powerplant: 1 × Bristol Siddeley Orpheus 701-01 turbojet, 4,705 lbf (20.9 kN)
Performance
Max. Speed: 695 mph (mach 0.95) (1,120 km/h) at 20,000 ft (6,100 m)
Range: 500 mi (800 km)
Service Ceiling: 48,000 ft (14,630 m)
Rate of Climb: 20,000 ft/min (101.6 m/s)
Accidents and Incidents
31 July 1956 the prototype G-39-2 crashed at Stockbridge and was destroyed after structural failure caused by tailplane flutter.
15 October 1958 a development F.1 XK767 fatally crashed at Stapleford in Wiltshire following presumed control failure.
13 April 1966 RAF Gnat T.1 XP507 of 4FTS flew into the sea on approach to RAF Valley.
26 March 1969 RAF Gnat T.1 XR573 of the CFS crashed into tree during formation display practice.
20 January 1971 two RAF Gnat T.1s XR545 and XR986 of CFS collided and both crashed during practice display flying at RAF Kemble.
3 September 1975 RAF Gnat T.1 XS103 of the CFS collided with an Italian Air Force Lockheed F-104 Starfighter near Leck, both aircraft landed safely but due to damage the Gnat was written off.
30 April 1976 two RAF Gnat T.1s XP536 and XR983 of 4FTS collided and both crashed over North Wales.
30 June 1976 RAF Gnat T.1 XM707 of the CFS was abandoned near RAF Kemble following loss of control of tailplane.
29 July 2013 Gnat T.1 XS105 (N18GT) Crashed near Georgetown, SC, USA. The aircraft was destroyed.
Gallery