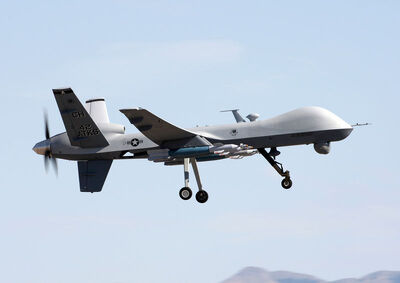 The
MQ-9 Reaper
is an Unmanned Aerial Vehicle, designed and manufactured by General Atomics. It is based on the
General Atomics MQ-1 Predator
( at first it was called Predator B ), it was primarly designed to perform close Air Support. The MQ-9 Reaper is used by the United States and the Royal Air Force in Afghanistan. It has beeen seen in many movies, including the 2007 live-action film
Transformers
attacking some of Decepticons that were too powerful.
Development
Edit
In the year 2000, General Atomics developed for the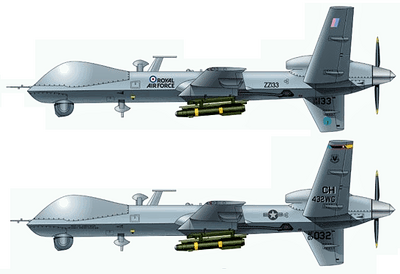 Department of Defense, based on the MQ-1 Predator, an UAV which should be a larger and more powerful Hunter-killer UAV, to act as a weapon against terrorism. The first flight of the prototype was on 2nd February 2001. It is powered by a 670 kW Turboprop engine. With a weight of 4760 kg, it is four times heavier than the MQ-1 and has a ten times higher payload. External droptanks, Air-to-Ground missiles and precision bombs can be monted on four external pylons. For reconnaissance rules and target detection it is equipped with a radar and Infra-red sensors.
In February 2003, the drone was first called MQ-9A, while it was currnetly planned to call it Predator B, and in September 2006 it was first called MQ-9 Reaper. In November 2006, the first Reaper squadron was founded ( 42nd Attack Squadron ) on Creech Air Force Base in Nevada. At the beginning of 2009, 28 Reapers were in service by the US Air Force, but the USAF planned to buy 60 additional in the next few years.
Community content is available under
CC-BY-SA
unless otherwise noted.